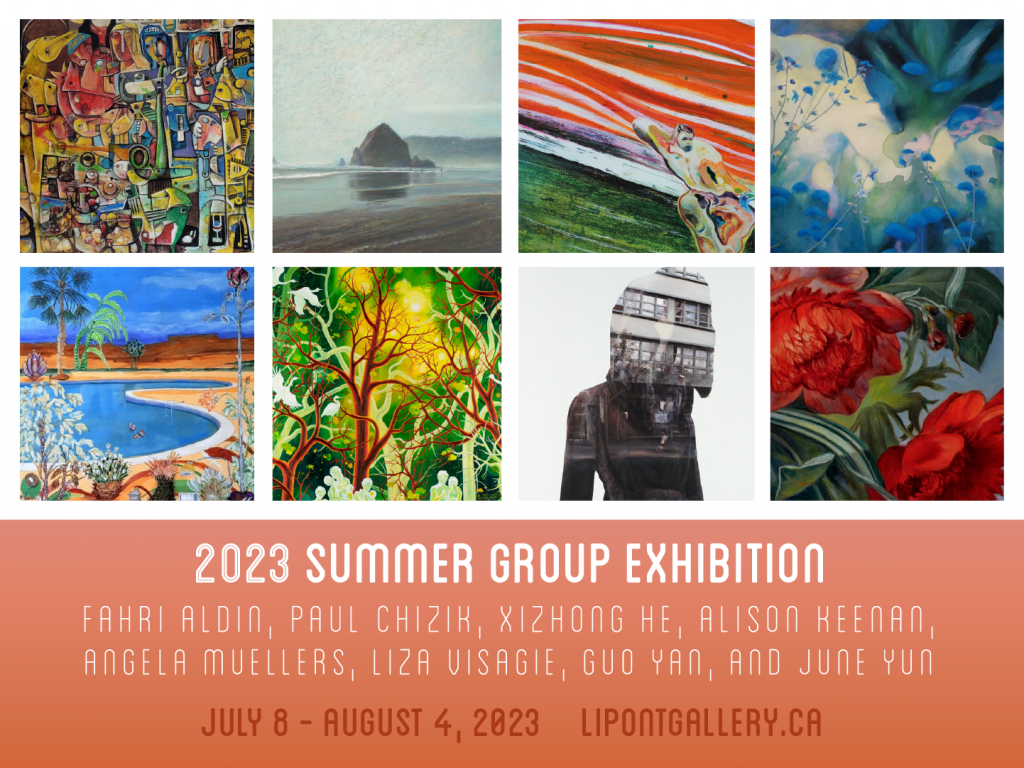 Virtual View of the Exhibition
Opening: Saturday July 8, 2023 2-4pm
https://summergroup.eventbrite.ca
June Yun artist talk: Tuesday June 25 6-7pm.
https://junetalk.eventbrite.ca
Exhibition: July 8 – August 4, 2023, M – F 10 -5, Tue 10 – 8
Lipont Gallery is excited to present fine paintings, drawings, editions, and sculpture by local and international artists Fahri Aldin, Paul Chizik, Xizhong He, Alison Keenan, Angela Muellers, Liza Visagie, Guo Yan, and June Yun.
Each of the participating professional artist has decades of practice has excelled in their craft. Fahri Aldin paintings and sculptures "manifest his unique views of human nature but also provokes intuitive emotions that synchronize with facial expressions and ongoing conversation during human interactions." Paul Chizik addresses the historical importance of landscape painting in his works and makes direct reference to many of the Greats. He juxtaposes rural and urban industrial landscapes in his meticulously executed oil paintings and pastel drawings. Xizhong He depicts his subjects such as humans, landscape and floral in the approach of a fictional reality and streamline brush strokes. The editions displayed in the exhibition are based on his original canvas paintings. They reflect his effort to reserve engineer messages transmitted by visuals besides his visual communication designer career. Alison Keenan has been "creating paintings and murals to manifest her unique views of nature and the mesmerizing avian life of British Columbia; now she also has ventured into creating surrealist paintings and collages inspired by human life, culture, the pandemic and social changes." Angela Muellers delivers the magnificent west coast landscapes to the audience by her dynamic composition and brilliant colour arrangements. She is also an avid climber and skier. Her paintings are from her own experiences in nature. Liza Visagie has a keen eye for beauty in today's society. Her extraordinary perspective, skillful and delicate brushstrokes subtly depict and process the daily scenes passing before our eyes, so that we can observe, reflect, and taste the stories and beauty in life, especially during the pandemic. As an environment-conscious person, Guo Yan's medium to large-scale oil paintings explore the nuanced relationship between humans and the environment through interpretative themes of light and darkness. Mixed media artist June Yun's recent paintings straddle the line between abstraction and representation. They not only capture the realistic side of the ambiance of the four seasons of Vancouver, but also projects ancient literati's tastes in dreamy settings that she has created.
开幕:2023年7月8日星期六 14:00 – 16:00
https://summergroup.eventbrite.ca
艺术家云媛分享会:2023年7月25日星期二18:00 – 19:00
https://junetalk.eventbrite.ca

展览:2023年7月8至8月4日
週一至週五10:00 – 17:00, 週二至20:00, 周末及节假日休息
温哥华力邦美术馆隆重推出八位资深艺术家绘画、雕塑联展。参展艺术家:法赫里·阿尔丁,保罗·奇兹克,何喜忠,艾莉森·基南,安杰拉·穆勒斯,丽莎·维吉萨,郭燕,云媛。
八位艺术家均已在艺海扬帆几十载。他们来自加拿大、西亚、欧洲,中国,和南非,其中七位已定居温哥华多年并一直全职从事艺术创作,在绘画、雕塑、多媒体艺术、设计,和艺术教学领域颇有建树。
法赫里·阿尔丁的绘画和雕塑作品不仅展现了他对人性的独特见解,而且捕捉到人类在持续对话中面部出现的微妙情绪。他强大的想象力让他的画笔在立体主义、超现实主义和抽象派之间游走。保罗·奇兹克在他的作品中阐述了风景画的历史重要性,并直接参考了许多大师的精妙之处。他在精心创作的油画和粉彩画中将乡村和城市工业景观并置并引发观众对当今社会环境和自然环境间的博弈。何喜忠以虚实的手法和流畅的笔触描绘人物、山水、花卉等题材。他在视觉传达设计师职业生涯中力图在绘画作品中保留并运用视觉传达强有力的一些特殊手法。本次展出的限量版画是根据他的油画原作而制,并由他亲笔签名并编号。艾莉森·基南近三年来她受到人类生活、文化、疫情和社会变化的启发,进而创作了一批超现实主义绘画。这组新作品代表了她在构建一个充满令人惊讶的细节和隐喻的想象世界中所付出的热情、努力、创造力和技能,强调了自然与人类之间的关系、疫情期间社会互动的减少以及不断发展的物质文化。安吉拉·穆勒斯通过她充满活力的构图和绚丽的色彩向观众呈现了加拿大西海岸壮丽的风景。她同时也是一位狂热的登山者和滑雪者,不断征服着高山并沉浸在大自然的怀抱。她的画作取材于她自己在大自然中的第一手经历和感悟。丽莎·维萨吉对当今社会的美有着敏锐的洞察力。她非凡的视角和娴熟细腻的笔触巧妙地描绘和加工着我们眼前的日常场景,让我们观察、反思、品味生活中的故事与美好——尤其是在疫情期间。郭燕的中大型油画用十分浪漫的手法,通过对光与暗的诠释来探索人与环境之间微妙的关系,并揭示人类与其不确定性的命运和环境之间的博弈。她将山川、河谷、森林作为背景,把主体置身幻境,邀请观众们以新的视角审视世界。多媒介艺术家云媛的近期绘画作品跨越了抽象与具象之间的界限。它们不仅捕捉了温哥华四季不同氛围的现实一面,也在她创造的梦幻环境中投射了古代文人的品味。