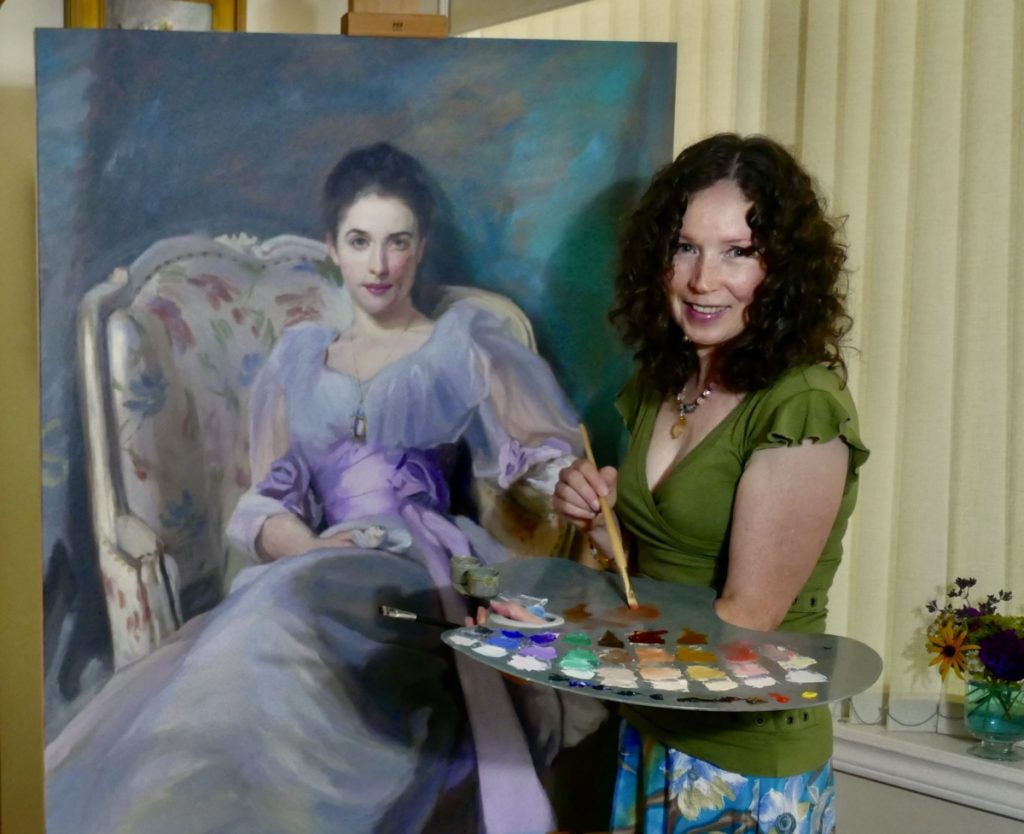 Angela Muellers was introduced to oil painting and European artists by her grandfather. Her great-grandfather painted and studied in Paris during the early 20th century.
She has a passion for the many skills and knowledge of a proficient artist. Some of these include paint chemistry, exploring archival materials, science of light and atmosphere, Euclidean geometry, perspective, and anatomy. The knowledge and practice that artists from the past acquired was essential to achieve their highest potential.
Her vision begins with several studies exploring formal design elements. Starting with a dynamic composition, introducing color arrangements, and finally subject and expression,
EDUCATION
Graduate of the Victoria College of Art, Studied part time for four years at the Vancouver Academy of Art, Four-year full-time program at the Academy of Realist Art Toronto. Workshops with American Artists including, Robert Liberace, Yuqi Wang, Dan Thompson, Michael Klein, and Stephen Assael. Advanced studies with Maestro Michael John Angel of the Angel Academy in Florence.
AWARDS
Finalist in the Art Renewal Center Competition (based in New Jersey) and won a Purchase Award. Published in Strokes of Genius 6. Work selected for "Art Journey Portraits and Figures.
EXHIBITIONS
Toronto, Victoria, Vancouver, Squamish, and Whistler.
PRIVATE COLLECTIONS
Switzerland, Ireland, Australia, USA, and Canada
Angela Muellers(安吉拉·穆勒斯)在其祖父的带领下,进入了油画和欧洲艺术家的世界。20世纪初期,她的曾祖父曾在巴黎学习绘画。
她对学习不同的绘画技能和知识充满热情,这其中包括颜料化学,无酸材料,光线与环境,欧几里得几何,透视和解剖学。积累的知识和实践对于艺术家激发自身最大潜力至关重要。
她的艺术追求开始于对设计元素的探索和学习。从一次充满动感的构图开始,然后是对色彩的运用,最后是对主题的选择和表达。
教育背景
安吉拉·穆勒斯毕业于维多利亚艺术学院,在温哥华艺术学院兼职学习四年,在多伦多现实主义艺术学院学习四年全日制课程,参加了Robert Liberace, Yuqi Wang, Dan Thompson, Michael Klein, 以及Stephen Assael等美国艺术家的课程,并进修于意大利佛罗伦萨天使学院Michael John Angel门下。
获奖经历
入围纽泽西州艺术更新中心竞赛并获得收藏奖。曾发表于《天才笔触6》一书。作品入选《肖像与人物艺术之旅》。
展览经历
曾展览于多伦多,维多利亚,温哥华,斯阔米时和惠斯勒。
私人收藏
作品被收藏于瑞士,爱尔兰,澳大利亚,美国和加拿大。