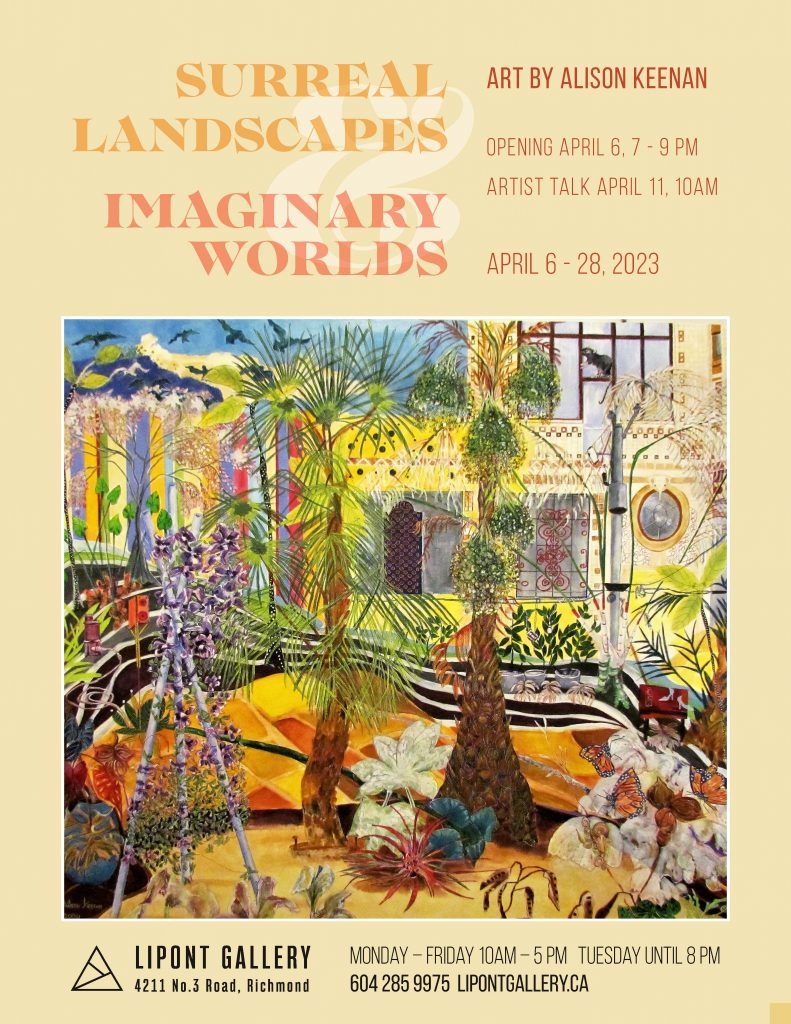 Surreal Landscapes and Imaginary Worlds
Art by Alison Keenan
Opening Reception: Thursday April 6th 7 – 9pm
https://alisonkeenan.eventbrite.ca
Artist-Led Tour: Tuesday April 11th 10 – 11am
https://alisontour.eventbrite.ca
Exhibition: April 6 – 28, 2023
Mon – Fri 10 – 5, Tue until 8pm (Closed on April 7th Good Friday Holiday)
Lipont Gallery is excited to present Vancouver-based artist Alison Keenan's stunning new paintings and collages, collectively named Surreal Landscapes and Imaginary Worlds.
As a professional artist with decades of practice in multi-disciplinary art, Alison Keenan not only has created paintings and murals to manifest her unique views of nature and the mesmerizing avian life of British Columbia; now she also has ventured into creating surrealist paintings and collages inspired by human life, culture, the pandemic and social changes. This new body of work represents her dedicated passion, endeavours, creativity, and skills in building an imaginary world that is filled with surprising details and metaphors underlined by the relationship between nature and human, the reduced social interactions during the pandemic and the evolving material culture.
Besides the Surrealist Landscapes, Avian Fables is an ongoing project that keeps the audiences amazed with the depictions of the magnificent eagles, falcons and other birds in British Columbia from an anthropomorphism approach, through painting and collages. According to Keenan, it is a "breathtakingly beautiful world."
Please inquire at 1 (604) 285-9975 during business hours or at art@lipont.com
【超现实风景与虚幻世界】
艾莉森·基南艺术展
开幕:2023年4月6日星期四19:00 – 21:00
https://alisonkeenan.eventbrite.ca
艺术家导览:2023年4月11日星期二10:00 – 11:00
https://alisontour.eventbrite.ca
展览:2023年4月6日至28日
週一至週五10:00 – 17:00, 週二至20:00
周末及4月7日Good Friday Holiday休息
温哥华力邦美术馆隆重推出温哥华艺术家艾莉森·基南 (Alison Keenan) 的绘画作品和拼贴画展【超现实风景与虚幻世界】。
作为一位在多种媒介间拥有数十载实践经验的专业艺术家,艾莉森·基南不仅创作绘画和壁画来展现她对大自然和加拿大卑诗省鸟类世界的独到见解,近三年来她受到人类生活、文化、疫情和社会变化的启发,进而创作了一批超现实主义绘画和拼贴画。这组新作品代表了她在构建一个充满令人惊讶的细节和隐喻的想象世界中所付出的热情、努力、创造力和技能,强调了自然与人类之间的关系、疫情期间社会互动的减少以及不断发展的物质文化。
除了超现实主义风景,【鸟类寓言】是一个长期进行的项目。艾莉森·基南通过绘画和拼贴画,以拟人化的方式描绘加拿大卑诗省壮观的老鹰、猎鹰和其他鸟类。根据基南的说法,这是一个"令人叹为观止的美丽世界"。
Alison Keenan – Artist Biography
Alison Keenan, a multi-disciplinary artist, lived in Burma before returning home to England to complete her art education and later lived in Italy and Egypt where she studied Aubusson and Gobelin Tapestry. In 2008 she graduated from Emily Carr University, Canada and in 2010 she received a Certificate in Liberal Arts from Simon Fraser University. Her portfolio includes national and international exhibitions, awards and murals, an online catalogue, guest speaker, artists residencies and videos.
A member of the female Vancouver-based artist collective, 13 Feet Off the Ground, she has painted murals in Sicily, West Vancouver, Penticton and Los Cabos, Mexico. She recently completed a commissioned 22 ft-wide mural in Yaletown, Vancouver.
艾莉森·基南 – 简介
艾莉森·基南 (Alison Keenan) 是一位涉及多种媒介的加拿大艺术家。她出生于英国并在英国受教育,也曾在缅甸、意大利、埃及生活和进行艺术创作,并研习了 Aubusson 和 Gobelin挂毯工艺。 之后她移居加拿大并于2008 年毕业于加拿大温哥华艾米丽·卡尔艺术大学,于 2010 年获得西门菲沙大学文科证书。 她的艺术生涯里包括国内和国际展览、奖项、壁画、线上画册、演讲、艺术家驻留项目以及影像等。
作为温哥华女性艺术家团体 "离地 13 英尺" 的成员,她曾在意大利西西里岛、加拿大西温哥华、加拿大卑诗省彭蒂克顿和墨西哥洛斯卡沃斯绘制壁画。 她最近在温哥华耶鲁镇完成了一幅 22 英尺宽的壁画。
Alison Keenan – Artist Statement
Surreal Landscapes and Imaginary Worlds invite the viewer into a world of complex paintings and collages created during the recent pandemic of 2020.
The artworks represent an exploration into a changed world where recombined images, social networking, cities, birds and animals, and fragments of visual culture collide. Recycled vintage magazines, maps, photos, patterns, and more gifted ephemera create one-of-a-kind collages.
Five or six elements are visually pleasing to me. A variety of yellows, surreal-looking plants, unusual plants and fish, off-kilter tables with legs and of course glimpses of water or a blue sea.
In my investigation of a changed world the artworks consider the endless summers of landscapes in a dreamlike passage of time mirroring the desire to escape the harsh reality for all.
艾莉森·基南 – 陈述
【超现实风景和虚幻世界系列】邀请观众进入一个复杂的绘画和拼贴画世界。这些作品是在近几年的疫情期间创作的。
这些绘画和拼贴画代表了艺术家对一个变化的世界的探索。在这个世界中,重新组合的图像、社交网络、城市、鸟类和动物,以及视觉文化的碎片相互碰撞。回收的复古杂志、地图、照片、图案和票据,创造出独一无二的拼贴画。
五六个元素在视觉上让我赏心悦目。各种黄色、超现实的植物、不寻常的植物和鱼、不规则的桌子,当然还有水或蓝色大海的惊鸿一瞥。在我对目前这个已改变的世界的观察和研究中,这些艺术作品在梦幻般的时间流逝中涉及了无尽的夏日风景,反映了大家逃离严酷现实的愿望。