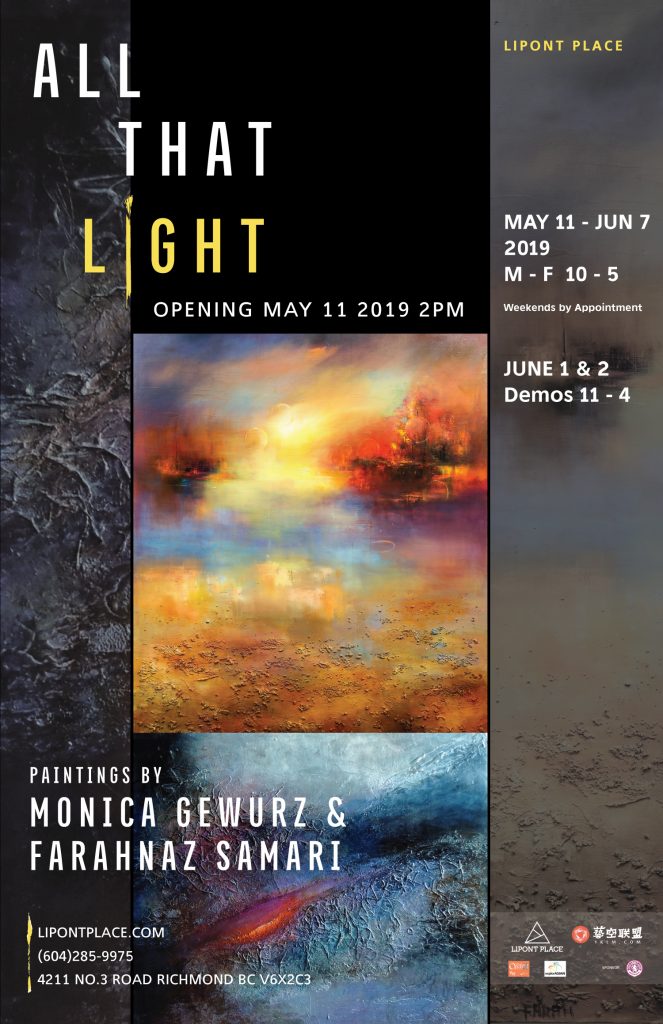 May 11 – June 7, 2019
Exhibition ALL THAT LIGHT – Paintings by Monica Gewurz and Farahnaz Samari
Public Opening: Saturday May 11, 2019 2 – 4pm
Exhibition:
May 11 – June 7, 2019 free admission
Mon – Fri 10am – 5pm weekends by appointment
Free demonstrations:
Saturday June 1 & Sunday June 2, 11am-4pm. Special weekend June 1st and June 2 11am-4pm during the annual "Doors Open Richmond". Open to the public, artists will give a family-friendly painting demonstration. Free supplies.
For a long time, light was only seen as a functional element of everyday life. Over time, artists have begun to study its properties, the ways it can accentuate shapes and textures and how it can be symbolically represented in contemporary art.
Vancouver artists Monica Gewurz and Farahnaz Samari use light as the predominant element in their abstract paintings. Their distilled views of the West Coast landscape capture the essence of light, sea and sky, and are the inspirations for the ethereal landscapes featured in the "All that Light" exhibit.
This exhibition reflects the material world and the immaterial soul. Both artists have captured the ephemeral effects of sunlight upon land and sea in textured landscapes. It invites the viewer to experience atmospheric light as a force artfully teased and coerced into an equilibrium where there is an ever-delicate balance between reality and the imagined. The artwork allows the viewer to experience the paintings as through it is the air itself, allowing their subconscious to lead the way, sparking memories and freeing their minds to wander, imagine, and dream.
The ethereal landscapes in this exhibit are the artists' personal way of connecting with the physical and spiritual aspects of nature. It allows the viewer to experience biological, physiological and psychological responses to the paintings resulting in a feeling of peace and tranquillity.
The beauty, force and energy of light have always drawn Monica Gewurz in as a scientist and as an artist. Influenced by Turner, "the painter of light," and Asian traditional painting, she focuses her vision in moments of serenity, to reveal the elemental and transcendent dance between atmosphere and light. Texture and thin layers of colour are two key elements in her work, as she aims to blur the line between painting and sculpture, inviting touch by integrating natural and man-made materials. Each layer of colour and medium is partially revealed creating mesmerising luminous effects.
Farahnaz Samari has been constantly inspired by the vivid memories of her childhood – the smells, the sights, the sun-drenched landscapes in Iran. Light has always been inevitably the subject of her art.
Listening closely to her moods and muse, Farah's inspiration changes over time, from outdoor landscapes to urban cityscapes and architectural structures. Her main mantra is to have a hidden meaning, and to create a mysterious feeling on her paintings. She is a master in using the contrast of light and dark and colour. To achieve this, she uses numerous thin layers of transparent colours and different brush strokes directions. Her ethereal landscapes portray mood changes, and energy movements, echoing our ever-changing emotions, like happiness, sorrow, hope, hopelessness and passion.
This exhibition is participating in the 2019 explorASIAN Fetival.

Monica Gewurz lives and works in Vancouver, BC. Born in Peru in 1957, Monica immigrated to Canada in 1976, where she obtained both a Bachelor's Degree of Science and Master's Degree in Landscape Architecture. She also holds a Fine Art Certificate and an Advanced Painting Certificate from Emily Carr University of Art and Design.
Monica is represented year round by four galleries in British Columbia. Her paintings have been exhibited at numerous galleries and juried group shows in Vancouver and the U.S. Her work is in private collections the U.S., Mexico, Australia, Japan, U.K., New Zealand, Peru, China and Europe.
The Asian countries where she has travelled to including Japan, Thailand, India, Indonesia, Israel, Turkey, Hong Kong have influenced her recent work. In addition, she seeks to incorporate a Zen meditative feeling and the five elements of Japanese philosophy in her art: Earth, using stone or gravel; Water, using texture, or depth in colour layering; Fire, depicting bright colours and light using gold or silver gilding; Wind, mimicking its movement via brushstrokes; and Void (meaning "sky" or "Heaven"), creating an atmospheric effect via numerous transparent layers.

Farahnaz Samari was born and raised in Iran – land of Persia, where she was exposed to the rich Iranian culture and was professionally trained at the prestigious Fine Art & Interior Design in Tehran. After immigrating to Vancouver, the ocean became the inspiration of her series of abstract paintings.
Asian countries such as Turkey, United Arab Emirates, and Malaysia where she has travelled to also influenced her work, especially the way she incorporates symbols, colours and spirituality. Coming from the land of the sun, light has been the main symbol of her art. Farahnaz has showcased her artworks in many solo and group exhibitions in Iran and Canada. Her work is in the collections among connoisseurs in Canada, U.S., Iran and Europe.