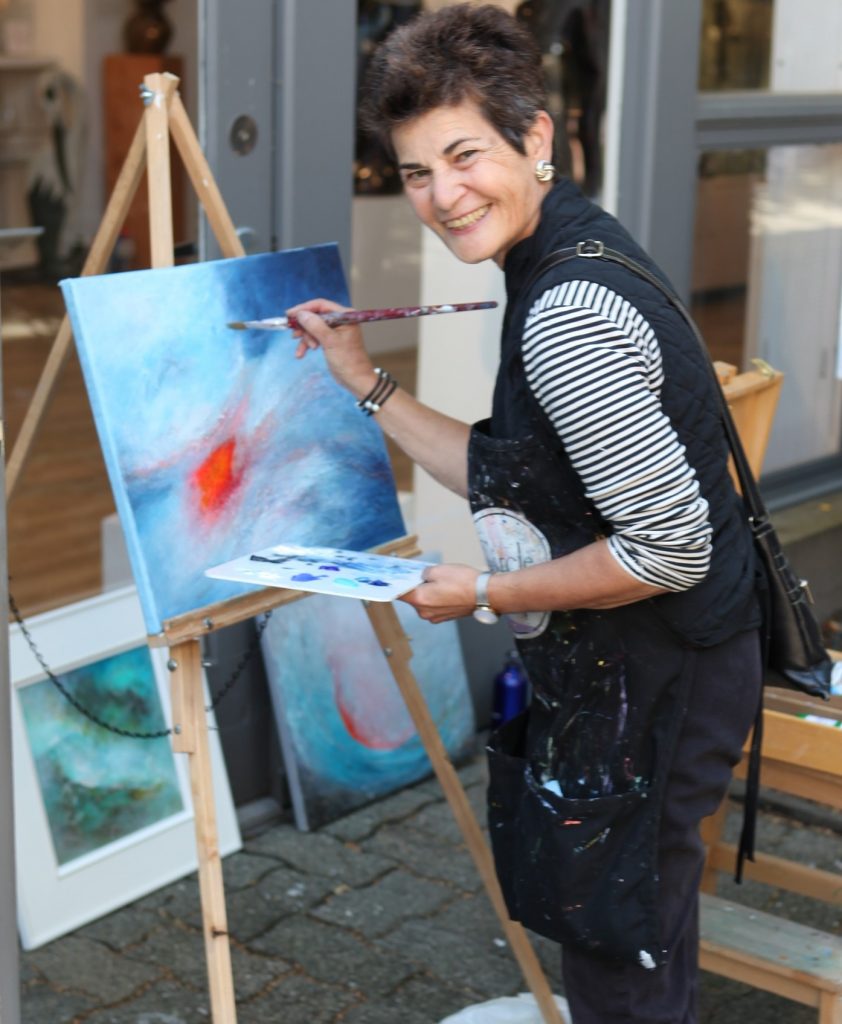 Biography
Monica Gewurz lives and works in Vancouver, BC. Born in Peru in 1957, Monica immigrated to Canada in 1976, where she obtained both a Bachelor of Science and Master in Landscape Architecture with a focus on environmental design and land reclamation. She earned her Fine Art Certificate and an Advanced Painting Certificate from Emily Carr University of Art and Design. Monica has travelled extensively, studying different art forms throughout the world.
Influenced by Turner, "the painter of light," and Asian traditional painting, Monica's abstract landscapes aim to reflect truthfully the moods of Nature. Captured on canvas or in silver, her work draws on the exceptional landscape of the Pacific West Coast, and worldwide tribal symbolism.
She is drawn to the extraordinary in the ordinary, capturing the feeling and emotion on canvas, reflected in her luminous layers and enticing textures. Eliminating recognizable details in her work, Monica explores the texture of patinas, the patterns of light and wind as they travel across water and rock surfaces, and the radiance of both calm and stormy skies. She creates an expression of spirituality rather than visual accuracy. Working from memory, Monica allows her subconscious to lead the way, leaving a space for herself and the viewer to wonder, imagine and dream.
Monica's distinctive style of textural painting, in which she applies thick layers of acrylic paint and medium with palette knives, results in a 3-D effect, suggesting organic energy, flow and movement. At the same time, she uses multiple glazes of colour to produce contrast and harmony, creating lightness, fluidity, and ephemeral atmospheric effects.
Monica is represented by the following galleries; Ukama in Vancouver, The Kube, International Artists and Mattick's Farm in Victoria-Vancouver Island. Her paintings have been exhibited at numerous galleries in BC's Lower Mainland, including Federation of Canadian Artists Granville Island; Ferry Building West Vancouver, International Artists and Seymour in North Vancouver. Her work is in private collections the US, Mexico, Australia, Japan, UK, New Zealand, Peru, China and Europe.
Monica is a Board Director of The North Vancouver Community Art Council, and has an Active juried member status from the Federation of Canadian Artists, member of the North Shore Artists Guild and the Craft Council of BC.
Monica donates part of her proceeds to the Brooke Foundation in the UK and to the SPCA in Vancouver, to assist cats, dogs, horses and donkeys in need. She donates art work to the Children's Heart Foundation, Lions Gate Hospital, BC Cancer Society, Loving Spoonful, Museum of Northwest Art, The Nature Trust of BC, Pacific Salmon Foundation, Vancouver Aquarium, among others.
Artist Statement
I am a mixed media artist based in Vancouver, British Columbia. My art is rooted in my life on the west coast of British Columbia, but also draws on my travelling experiences. Drawing on my background in science, I create evocative and purposely imperfect paintings inspired by nature's geometric patterns, patinas, time-worn layers of archaeological sites and the amazing colours of dawn and dusk. The contrasting nature of the organic and its window to dream-like places, fascinate me. My paintings reflect the scope of imagery viewed from the vastness of space or through the lens of a microscope.
I use mixed media for its capacity to reach beyond the visual, to more tactile and tangible processes. I invite the viewer to come closer to observe layers, ridges, cracks, textures and pigments throughout my work, much like novels, they hint at layers of meaning.
Painting in the abstract genre challenges me to represent reality in a veiled, enigmatic, and intriguing way. My work resides between abstraction nearing representation and representation nearing abstraction. This artistic process is one of constant discovery and conversation – the painting speaks, telling me what it needs, and I respond. There is a freedom to intuitively transform what I see and feel onto the canvas.
Texture and light are two key elements in my work, as I aim to blur the line between painting and sculpture, inviting touch. In my abstracts I integrate natural and man-made materials including recycled metals and pigments ranging in colours from deep Sienna's, to deep blues, and teals mixed with hints of black, including metal rust patinas which fascinate me.
My paintings are continuously evolving as I work through, adding many layers and glazes, sometimes a bit of gold or silver leaf. Each layer of colour and medium is partially revealed, building a luminous quality.
Asian symbolism has a presence in my paintings as I seek to incorporate the five elements of Japanese philosophy: Earth, using stone or gravel; Water, using texture, or depth in colour layering; Fire, depicting bright colours and light using gold or silver gild; Wind, mimicking its movement via brushstrokes; and Void (meaning "sky" or "Heaven"), creating an atmospheric effect via numerous transparent layers.
I curate combinations of materials and techniques to abstract reality, telling a story to elicit an intimate aesthetic and emotional response. To experience this fully, the viewer must enter the multiple layers, shades and textures of my work, and be seduced into a visual and visceral encounter – a holistic meeting of minds between artist and viewer, inspiring self-discovery, empathy, meditation and mindfulness.
The beauty, force and energy of mineral patinas, water and its associated reflective light and the interplay of light, shadow, and colour in the landscape, have always drawn me in as a scientist and as an artist. This connection I have with water its associated reflections, and the amazing colours, hues of dawn and dusk is what has inspired my newest art work collection.
These pieces are a homage to the natural beauty and emotional energy that globally all water bodies have.
Each viewer sees something different in the final art work, for this reason I do not sign my paintings to allow the person to hang the painting in the orientation it speaks to them. Each piece is signed at the back.
"Working with texture and layers in my mixed media paintings gives me an opportunity to express nature in an abstract way, to encourage the viewer to be moved by its beauty, and to create a mood that will seduce the eye and inspire the spirit." Monica Gewurz