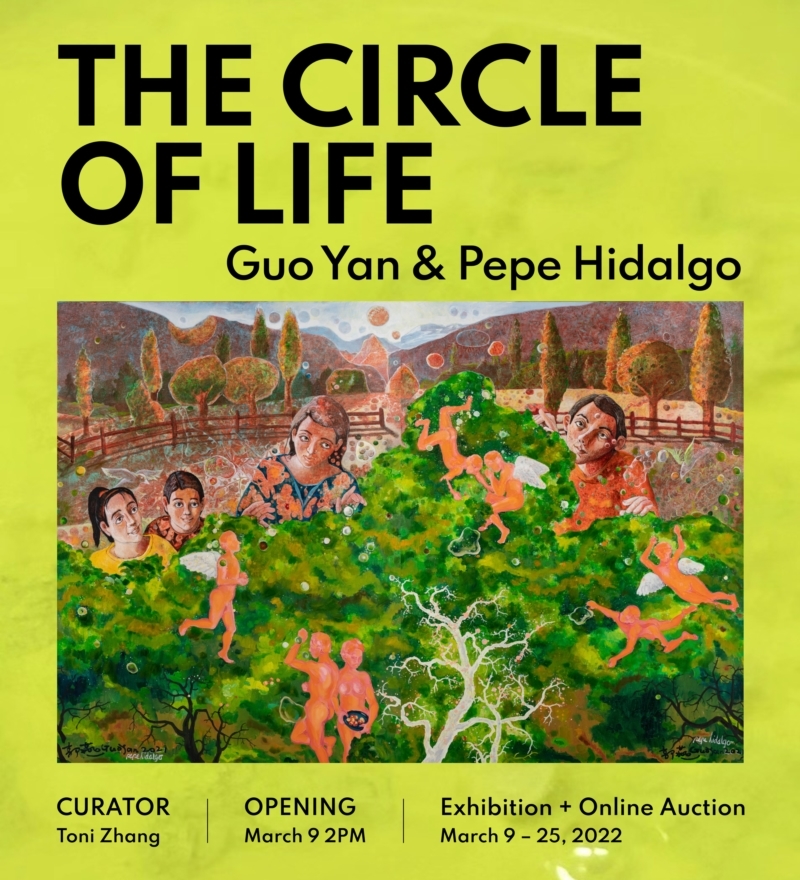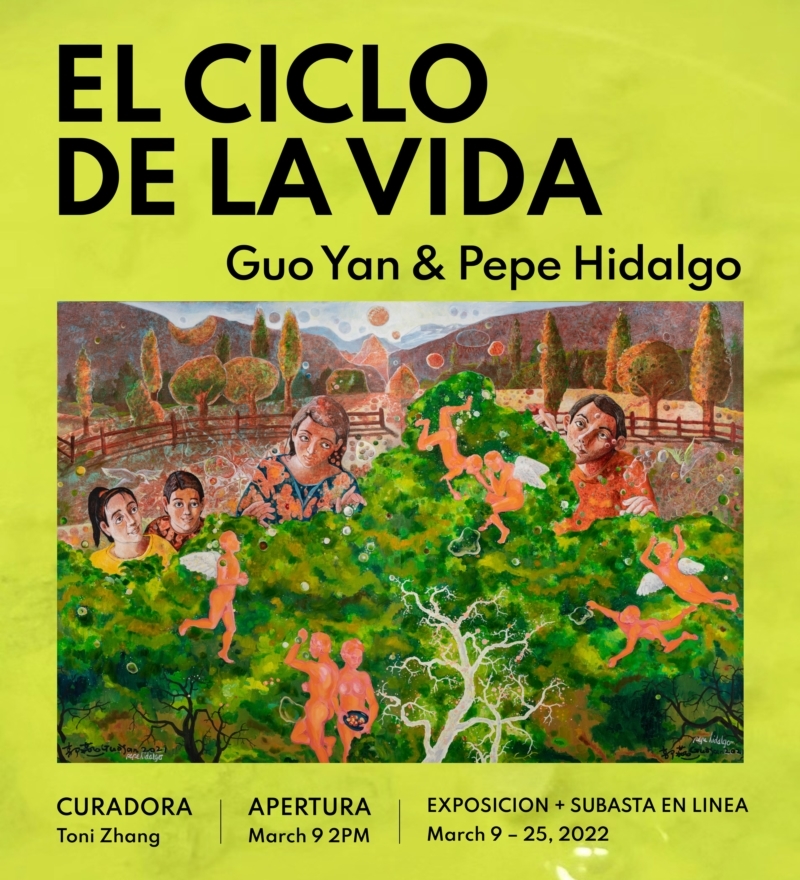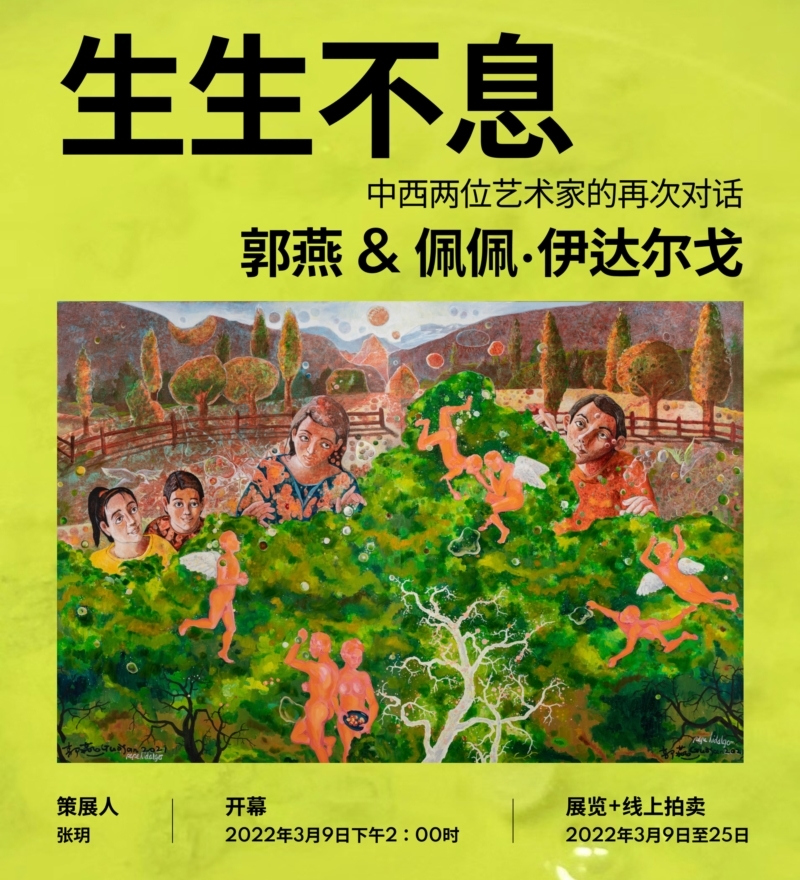 Lipont Gallery is proud to present The Circle of Life exhibition by artist Guo Yan and Pepe Hidalgo. Both artists seamlessly integrate their unique artistic languages and expressions into stunning paintings depicting lush, dreamlike sceneries. The show also includes several paintings independently created by the artists around the theme of magic realistic time travel with Guo Yan addressing the past and Pepe Hidalgo envisioning the future.
Join us this Wednesday, March 9th from 2-5pm for the opening reception. The exhibition runs from March 9th to 25th.
Guo Yan is a contemporary artist who lives and works in Vancouver, Canada. She graduated from the Xi'an Academy of Fine arts in 1995 and has exhibited across China, US, and Canada. Yan explores the nuanced relationship between humans and the environment through interpretative dual themes of light and darkness. Her artworks are part of major art institutions like the National Art Museum of China, Shanghai Xuhui Art Museum, and Beijing Yuan Art Museum among others.
Born in Spain, Pepe Hidalgo is now based in British Columbia, Canada. Hidalgo predominantly works in sizeable acrylic paintings that depict varying painting genres like landscapes, still lifes, and historical scenes. Pepe Hidalgo completed his studies in Madrid, Spain and Utrecht, Netherlands, where he was trained in the studies of form, colour, and perspective. His work has been exhibited and is in private collections in Spain, Germany, Belgium, Canada, and Holland.
For the Cycle of Life
Pepe Hidalgo
La idea original de la que partimos Guo Yan y yo para esta exposición, estaba relacionada con la renovación de la vida en la naturaleza de forma cíclica. Esta idea me llevó a pensar en la vida humana en su ciclo y di un gran salto y me puse a pensar en la idea cíclica de la evolución humana.
Pido disculpas por ello. Pero no quise dejar pasar la oportunidad de poder novelar pictóricamente, una de las últimas versiones sobre la creación del ser humano, me refiero a la traducción de las tablillas sumerias, anteriores a la Biblia y que en muchos aspectos coinciden.
Las tablillas sumerias traducidas por Zecharias Sitchin , nos narran la historia de unos seres de otro planeta que en busca de oro, llegaron a este planeta y su conocimiento genético era tan grande que podían modificar el ADN en la naturaleza. Mezclaron su ADN con la de seres de la Tierra dando origen al humano y otro tipo de creaciones.
Mi mente se trasladó a la actualidad donde nuestra civilización ha robotizado la vida, hemos transformado genéticamente parte de la naturaleza, estamos en disposición de viajar a otros planetas. Cada día las noticias nos sorprenden sobre los avances en la robótica quirúrgica, trasplantes de órganos de animales a humanos y nuevas informaciones sobre el conocimiento del espacio.
Partir de esta realidad y con estos datos novele mi historia pictórica del Ciclo de la Vida.
Aunque cada cuadro es independiente y tiene sentido por sí mismo, lo he diseñado para que también guarde relación con el anterior y el siguiente. Todos ellos forman lo que he decidido llamar la novela pictórica del Ciclo de la Vida. Los dividí en trípticos:
El primero representa la "Robotización"
El segundo es la "Mutación Genética y el Comienzo del Viaje al Espacio"
El tercero es la "Visita a un Planeta y la Creación de la Vida" Aquí es donde introduzco un reconocimiento de la mitología como posibilidad de la ingeniería genética dando lugar a centauros, minotauros, sátiros… .
El cuarto es la "Caída de los Dioses y el Andar de los Humanos en su Conocimiento y Evolución"
Después del cuarto tríptico es donde se cierra el ciclo porque el ser humano va llegando al punto de partida pero en una espiral con una evolución superior (más volátil).
For the Cycle of Life
Pepe Hidalgo
The original idea from which Guo Yan and I started for this exhibition was related to the renewal of life in nature in a cyclical way. This idea led me to think about human life in its cycle and I took a big leap and started thinking about the cyclical idea of human evolution.
I apologize for it, but I did not want to pass up the opportunity to be able to fictionalize pictorially one of the latest versions of the creation of human beings, I am referring to the translation of the Sumerian tablets prior to the Bible and which in many aspects coincide.
The Sumerian tablets translated by Zecharias Sitchin, tell us the story of some beings from another planet who came to this planet in search of gold and their genetic knowledge was so great that they could modify the DNA in nature. They mixed their DNA with that of beings from Earth, giving rise to humans and other types of creations.
This brought me to the present where our civilization has robotized life, we have genetically transformed part of nature, we are ready to travel to other planets. Every day the news surprises us with advances in surgical robotics, organ transplants from animals to humans, and new information on knowledge of space. Starting from this reality and with these data, I novelize my pictorial history of the Cycle of Life.
Although each painting is independent and makes sense by itself, I designed them so that each one is related to the previous and the following one. All of them form what I have decided to call the pictorial novel of the Cycle of Life. I divided them into triptychs:
The first one represents "Robotization". The second one is the "Genetic Mutation and the Beginning of the Journey into Space". The third one is the "Visit to a Planet and the Creation of Life". This is where I introduce a recognition of mythology as a possibility of genetic engineering giving rise to centaurs, minotaurs, satyrs…The fourth one is the "Fall of the Gods and the Walk of Humans in Their Knowledge and Evolution". After the fourth triptych is where the cycle closes because humans are arriving at the starting point but in a spiral with a higher evolution (more volatile).
English translation by Noreen Marte
生生不息
佩佩·伊达尔戈
我和郭燕做这个展览的初衷,是与自然界中生命的更新有关。这个想法让我开始思考人类生命的循环。我迈出了一大步,开始思考人类进化的循环观念。
对此我表示歉意,但我不想放弃以图画方式虚构人类创造史最新版本的机会,我指的是《圣经》之前的苏美尔泥板的翻译,其中许多方面与我的想法不谋而合。
撒迦利亚·西琴 (Zecharias Sitchin) 翻译的苏美尔泥板告诉我们一些来自另一个星球的生物来到地球寻找黄金的故事。他们的基因知识非常丰富,可以修改自然界的基因。他们将自己的基因与地球生物的基因混合,产生了人类和其他类型的创造物。
这把我带到了现在,我们的文明已经将生命机器人化,我们已经对自然的一部分进行了基因改造,我们准备好前往其他星球。每天,关于外科机器人技术的进步,从动物到人类的器官移植以及关于太空知识的新信息,我们都会感到惊讶。从这个现实和这些数据出发,我将人类生命周期的图画小说化。
虽然每幅画都是独立的并且本身就有意义,但我把他们设计成三联画是为了让每幅画都与前一幅和下一幅相关。我决定称之为"生命周期"图画小说。我把它们分成三联:
第一个代表"机器人化"。第二个是"基因突变和太空之旅的开始"。第三个是"造访星球与创造生命"。在这里,我介绍了对神话的认识,即基因工程可能产生人首马身神、牛头神、半人半马神……第四个是"众神陨落和人类在知识和进化中的步伐"。在第四组三联画之后是循环的结束,因为人类正在到达起点,一个更高的(更不稳定)进化螺旋中。
The Renewal of The World and The Blooming of Life
Art Exhibition: Circle of Life – Art by Guo Yan and Pepe Hidalgo
The collaboration between Chinese-Canadian artist Guo Yan and Spanish artist Pepe Hidalgo happened naturally. Following the fifty dialogue paintings and multiple collaborative works of The Origin of the Souls Exhibition in 2020, they continue to explore the subject of life, presenting concepts such as life, survival, reality and fantasy to the audience with more engaging stories and images.
This exhibition, Circle of Life, will display three diptychs jointly created by the two artists, Lively Garden of the Future, Enter the Garden of Dreams, and Garden in Spring, as well as several stunning paintings created independently by the two artists. Life is an eternal theme. The two artists firmly grasp the issues of life in their works, fully expressing inspiration, exploration, interpretation, reflection, and eulogy of life.
Human beings are born, exist, grow, and develop in an environment full of uncertainty, and strive to create comfort, tolerance, and abundance, and achieve certainty. With the leap of human cognition and the rapid development of modern science and technology, human beings have greatly, rapidly, continuously, and infinitely expanded their living space. While bringing comfort, they also have seriously damaged the natural environment and ecological balance, which forces humanity to face the consequences. This is exactly the proposition of the times that contemporary artists are deeply concerned about.
Pepe Hidalgo and Guo Yan both use mountains, river valleys and forests as backgrounds, even in fantasy. In their paintings, humans are no longer in the centre or the only subject. All things have animism, and humans are only a part of coexisting with the environment and participating in energy conversion. The two artists collaborated on paintings such as Back to Mount Ararat, Promised Land, Tower of Babel, Noah's Ark in the 21st Century, and Enter the Garden of Dreams in a very romantic form, uncovering the play between humanity and its fate and environment.
Everything that Guo Yan created in her paintings is based on the real world, but it is not a replica of the real world. Plants, trees, spirits and life fill the picture, and consciousness transforms into spirits of the dark night, carefree and vigorous. Lives are flying and wandering in the mountains and forests. Brightly coloured light penetrates the vivid green, illuminating the scenes in the forest, either fresh, warm, or scorching, and abundant energy radiates willfully from the canvas. The old branches in the distance are strong and tenacious, and the new branches in the close-up are struggling to rise. The red branches spread like a weave of nerves and blood vessels, giving birth to a powerful life form. Those naked figures that have just been born are alive and kicking, but they also seem to be life that is alive after billions of years of reincarnation and replacement. The acquisition and endowment, release and acceptance of cosmic energy all are unfolded in her works, which are metabolized and endless.
Pepe Hidalgo mentioned in several interviews that he was expressing a moment, a certain time, or a certain situation. The unique time and space he constructs is absolutely separate from that of the audience. The moments he depicts are moments when time slows down or even stops, sometimes briefly, sometimes permanently. These spaces and times allow people to wander, traverse borders and dimensions, and return. In addition to stippling with what he calls atomic bubble-shaped dots, Pepe uses metaphors and symbols from the material cultural heritage of mankind to lead the audience through time and space between the past and the present. The scenes in his works not only look like civilizations lost in prehistoric times, but also like the magic and excellence constructed by technology in the distant future.
In this exhibition, Pepe Hidalgo's four sets of triptychs show a positive timeline in his mind, a life cycle: Robotization, Genetic Engineering, Exploration of Another Planet, and The Fall of the Gods. Not to mention the definition of life by philosophy and religion, Pepe Hidalgo, as an artist, summarizes his profound thinking on life and uses the concept of time to summarize the beginning, development, end, and then starting point cycle, and uses his finishing touch "umbilical cord" to let himself shuttle between the past and the future. Sometimes he stands in the ancient times and asks questions about the present; sometimes he leaps into the future and reinterprets the history depicted in classical paintings. Although Hidalgo's works are full of alterations, transformations, and variations, he did not actually "leave" the earth. It was the social environment in which he lived and the power of human reality that gave birth to every object and every life in his paintings.
We are all beings born on the earth, enjoying the vitality, aesthetics, empathy, pain, and pleasure that the world bestows on us. We have never missed the magnificent sunrise, never missed the blooming period, and never escaped any joy and sorrow. There are thousands of experiences in this life, so much to taste. When art moves us, it reveals hidden truths and allows us to see the world from a new prospect.
When we stand in front of the paintings of Guo Yan and Pepe Hidalgo, we see ourselves, the unknown, and the blooming of wisdom, art and life!
Toni Zhang McAfee
February 2022
世界的更新,生命的绽放——郭燕和佩佩.伊达戈尔联展《生生不息》
来自中国的艺术家郭燕和西班牙裔艺术家佩佩·伊达戈尔的再次合作,发生得自然而然。继2020年《灵魂的原乡》五十幅对话作品和多幅合作作品之后,他们继续探索生命的课题,将生命、生存、现实与幻境等概念用更加引人入胜的故事和画面呈现给观众。
本次《生生不息——中西方两位艺术家的再次对话》联展共展出两位艺术家联袂创作的三件二联画《生机盎然的未来花园》、《进入梦想花园》、《春天的花园》,以及两位艺术家独立创作的多幅杰作。生命是永恒的主题。两位艺术家在他们的作品中紧紧把握生命议题,充分表达了启迪、探索、诠释、反思与讴歌!
人类在充满不确定性的环境中生成、存在、成长、发展,并努力缔造安适、容裕、富足,力求达成确定性。伴随着人类认知的跃迁,现代科学与技术的飞速发展,人类将生存空间极大地,飞速地,不断地,无限地扩张,在带来舒适的同时,也严重破坏了自然环境与生态平衡,迫使人类必须面对其后果。这也正是当代艺术家深切关注的时代命题。
佩佩和郭燕不约而同地将山川、河谷、森林作为背景,即使是在幻境中。在他们的画面里,人类不再是中心,不再是唯一的主题。万物有灵,人类只是与环境共存,参与能量转换的一份子而已。两位艺术家合作的《回到阿勒山》、《应许之地》、《巴别塔》、《二十一世纪的诺亚方舟》、《进入梦想花园》等二联画以十分浪漫的形式揭示人类与其不确定性的命运和环境之间的博弈。
郭燕作品中营造的一切都基于现实世界,但又不是现实世界的翻版。植物、树木、精灵和生命充斥着画面,意识幻化成暗夜的精灵,无忧无虑,蓬勃旺盛。生命的姿态飞翔、游走于山岳林莽。色彩明丽的光线穿透艳绿,照亮了一幕幕林中景象,或清新,或温暖,或灼热,丰沛的能量从画布上任性地辐射而出。远景中的枝桠遒劲坚韧,近景中的新枝奋力拔升。红色的枝蔓延展,犹如神经和血管的罗织,孕育出强有力的生命体。那些刚刚诞生的赤裸躯体生龙活虎,却又好像是历经亿万年转世更替而依然生机蓬勃。宇宙能量的索取和赋予、放送和接纳都在她的作品中展开,新陈代谢,生生不息。
佩佩·伊达戈尔在几次采访中提到,他表达的是片刻,是某一时间,某一个情景。他构建的独特时空与观众所处的时空绝对分开。他所描绘的这些时刻均是时间变慢甚至停止的时刻,有时是短暂的,有时是永久的。这些时空使人们逡巡,穿越边界和时空维度,然后返回。除了用他称为原子泡泡形圆点进行点彩之外,佩佩惯用隐喻和人类物质文化遗产中的符号,带领观众在过往与现实的时空中穿越。他作品中的场景,既看似史前遗失的文明,又看似遥远未来科技建构的魔幻与超卓。
本次展览中佩佩的四套三联画展示出一条他心中的正序时间线,一个生命周期:《机器人化》《基因突变和太空之旅的开始》《造访星球与创造生命》《众神的陨落和人类知识进步的步伐》。且不说哲学与宗教对生命的定义,佩佩作为艺术家,把他对于生命的深刻思考,借助时间概念归纳为起始——发展——结束——起点,并用他的点睛之笔"脐带",让自己穿梭在过去与未来。他时而站在远古,向现在发问;时而跃向未来,重新诠释名画中的历史。虽然佩佩的作品里充满了变造、变形、变异,但他其实并未真正"离开"地球,是他所处的社会环境和人类现实的力量,催生了他画中的每一个物体,每一个生命。
我们都是出生在地球的生命,馨享着世界赋予我们的活力、审美、共情、苦痛、愉悦。我们不曾错过瑰丽的日出,不曾错过绽放的花期,也逃不过任何一次愉悦和悲伤。在抵达彼岸的途中经历万千,如数尽尝。当艺术感动我们时,是它揭示了被隐藏的真相,让我们以新的视角审视世界。
当我们站在郭燕和佩佩的作品面前时,我们看到了自己,看到未知,更看到智慧、艺术和生命的绽放!
张玥
2022年2月于温哥华力邦美术馆
The Circle of Life – The Continuous Dialogue between
A Chinese Artist and A Spanish Artist
The Interview between Curator and Artist Guo Yan
Toni: You are going to have another two-person exhibition with artist Pepe Hidalgo at Lipont Gallery. Can you tell us more about your thought process while preparing for The Circle of Life exhibition?
Guo Yan: The Circle of Life can be interpreted as the instinctive resistance and counteract against the negative social environment. In the past couple of years, we cast most of our attention on the pandemic, the volcano eruption, death, and economic downturn. The Internet is swamped by negative content every day. In this era of information explosion, that makes us more anxious and vulnerable. However, art can be a healing method. It is something very much needed now. We chose March to present the exhibition because the spring season would come and all things would regain their vitality, giving us hope for this world. That holds very powerful psychological implications. We also hope that the pandemic could end soon and that our life will be back to normal again. Therefore, the new exhibition is about spring, life, and hope. It is also witness of the friendship and collaboration between Pepe and I in the past two years.
Our last joint exhibition, The Origins of Our Souls, was unveiled on November 10, 2020, where I showcased my Noah's Ark series and The Boundary of Nature series. Those paintings were created before the pandemic, when I wanted to express concerns deeply rooted in my soul about reality, the environment, and the future. When there was no pandemic, I painted Noah's Ark, but when the pandemic hit, I started to paint The Circle of Life. It seems that I'm never synchronized with the real world. As for Pepe, his works focused mainly on indoor sceneries that portrayed families and friends, trying to reflect subtle emotional connections. We are inspired and reference paintings of the historical art canon, and we aim to redefine them through our own language of painting. In my painting Noah's Ark, the human beings finally find the promised land, the destination they have been longing for. Pepe has also redefined many classical works through his unique style, which digests and transforms our conventional visual perception. This time, he brings with him a large-scale work consisting of 12 paintings. It is magnificent.
Toni: How long have you known each other?
Guo: I met Pepe two years ago at an exhibition at Vancouver Lipont Art Centre. We didn't have many exchanges back at that time because he speaks Spanish, and I speak Chinese. Though we could only communicate with our limited English, art became our shared language because art is boundless. Soon, we became friends and started to plan a collaboration. We are two people that would rarely have something in common in the real world as we have totally different lives and live in different places. However, we came across each other and our passion for art naturally led us to the discussion of working together. The story sounds unbelievable, just like the paintings we co-created – visually unmatched but full of unanticipated novelties before they were finished, and each one of them has some interesting stories behind the scenes.
Toni: How do you feel about your collaboration in the past two years? How did you find the process?
Guo: If it was in the past, it would be very hard for me to imagine that I would co-create a piece of work together with another artist because artistic creation is very personal. Collaborating involves too many factors, including the fundamental perception of artistic concepts and the mutual recognition of professionalism. We reached the consensus of our co-creation that maintaining our own unique languages and styles of painting should be the prerequisite of our collaboration to create a piece of work together. We had long discussions about the theme of our work, trying to narrow down the main theme of our vision. Pepe also sent me many pieces of literature and references about the themes we selected for our joint works. Such communication and discussion are also a process for us to learn from each other. For the past four decades, Pepe has dedicated himself to painting and reached a high level of professionalism with an intense workload. That is something I admire. Both of us moved to and settled down in Vancouver around six or seven years ago. It is not easy to find a creative partner like him. I value our friendship very much.
Toni: What is your impression of Pepe as an artist through the past two years of collaborating? I know that there are quite a number of galleries that want to invite you both for joint exhibitions. Do you have any plans after this exhibition?
Guo: Pepe is a person with a pure heart. He is also an artist who does not like following mundane routines or rules. He is also very Spanish – emotional, straightforward, and very himself. Just like his works, Pepe is the kind of person with a purity and happiness that is solely unique to him. He enjoys painting and holds an academic, rigorous attitude towards art. But he also has his own perspectives and opinions. He is an exceptional artist who keeps a low profile and is open-minded, and full of passion. He has an extremely sharp aesthetic taste and creative imagination. He has his own painting language and style, which is super important to an artist. That means he is mentally strong. With his unique artistic perception, he has established his own kingdom of art.
Pepe's wife, Noreen, fully supports his work. Noreen speaks Spanish and English, and she helps translate between Pepe and I when we work. Noreen very kindly teaches me English with great patience. She is the best assistance to Pepe. Every time I meet with Noreen, I can tell that Pepe is surrounded by happiness.
There are many other things demanding our attention, but Pepe would focus most of his energy painting. Many art galleries in Canada are inviting him for exhibitions. Even during the pandemic, he held a solo exhibition in Alberta. Many galleries in China are sending us invitations as well. However, due to the excessive preparation, I am postponing the plans and hope to bring exhibitions to China after the pandemic is over.
The new works by Pepe displayed at this exhibition, according to my understanding, tell a narrative of everything in our universe, from the origin of human beings to the development of artificial intelligence. That is a tremendously big topic to deliver. I said to him that his new works remind me of the metaverse. Though not more than a concept, metaverse started to appear in his works many years ago when he began to paint round balls. He said those were molecules because the world is made of molecules. There is often a rope in his paintings. He explained that it was the umbilical cord connecting him and the world. I said to him that the idea was exactly as what Elon Musk conceptualized and that he expressed the idea through his surreal fantasy in a very artistic way.
Toni: Your works have received positive feedback from the art community and collectors alike, the gallery pre-sold many pieces before the exhibition. Could you please tell us more about your new works as well as the ones you co-created?
Guo: Actually, I didn't think much about the market response when I was creating my paintings. The market is something out of our control. What we can do is to express the themes that we are interested in at this moment and try our best to deliver them. We were lucky that there were collectors who were interested in our works. I'd like to express my thanks to the collectors who supported our works. For this exhibition, I brought our new series, The Circle of Life. It describes the relationships between human beings and nature. I intentionally painted the human figures in a translucent tone and the tree branches in the colour of human arteries. It is bold. But what I want to convey is the integration of humans and all things in nature. It might be because of the romanticism deeply rooted in me that I'd like to deliver my best wishes towards human society within this uncertain period of time. Art is embedded in reality but, at the same time, strays away from it. When I was painting this series, I felt something pleasant arising from inside of me that comes from my love towards nature and my wish of becoming part of it. I enjoyed the process very much. I felt that I was creating a brand-new day every day and that I didn't have enough time. Sometimes, I also feel unhappy with myself, but it was a sweet burden. The paintings become the evidence of the time that has passed by. They also mark the life I have led.
Because of our collaboration, I commuted to Pepe's studio frequently. Once we were chatting next to the window, and we saw a small, gorgeous, blue-coloured bird resting on the rail of the terrace. Pepe told me that that was the bird he fed, and it visited him every day to greet him. While saying so, he grabbed some peanuts to feed the bird. I was amazed by the scene. I saw the harmony between humans and nature. That was something I would like to express in my painting: the greatness and insignificance of humans and all things in the universe.
Art knows no boundaries or geographic differences. With the shared perception of humans towards beauty, we completed eight paintings together in the past two years. Except for the one that we just finished; all the other ones have already been acquired by institutions. Though it was not an easy journey to complete the artworks together, we feel happy that they are being exhibited. I remember the moment when we started each painting and the joy that followed the completion of each piece. Throughout the process, both Pepe and I tried to complete the works with our own visual perception of art. The unique and distinct styles of ours led us to the same destination that we would like to reach.
The first piece of painting that we co-created is Back to Mount Ararat. The Book of Genesis records that after the Great Flood, the place that Noah's Ark rests is Mount Ararat. It is a beautiful symbolic metaphor that describes our return to a new world.
The second co-creation is called Promised Land. It is a huge topic. The Promised Land is a God-blessed land that flows with milk and honey. Would it also be the land where artists' creativity is nourished?
The third piece is called The Other Side of Dreams. I painted six people sitting on a small boat from an aerial view, while Pepe painted another six people next to the boat, echoing my part. The Other Side of Dreams is the uncertain expectations we have towards the unknown future as we are both immigrants from the other side of the world.
The fourth work is called Tower of Babel. This work holds important significance to us as two immigrant artists from other countries. It is the projection of our individual life experiences. God intentionally makes people speak different languages and creates diverse cultures. Pepe settled down in Vancouver about six or seven years ago, and I have been living here for more than six years as well. This work is about humans and nature, a narration about immigrant culture and the protection of our homes. The beautiful homeland in the distance and the roots growing under the Tower of Babel converge through the two artists who have totally different styles of painting.
The fifth work is Noah's Ark in the 21st Century, which depicts people and animals on the shore, with a lighthouse standing in the distance on the blue ocean. The upper part of the painting was done by Pepe: day and night, illuminated by the sun and the moon. It is our best wishes towards humans and nature, as well as our aspiration to protect our homeland.
The sixth work is called Lively Garden of the Future. The Garden of the Future represents magic-realistic time travel. The upper part was created by Pepe, depicting a perfect family. The lower part is very typically of my style: a green garden of angels. Compared to the works introduced previously, this one has more vibrant colours.
The seventh is called Enter the Garden of Dreams. This work gives a very special visual presentation. I painted a traditional Chinese garden, while Pepe painted several people looking from the outside, ready to step into the garden. The stark traditional cultural contrast brings out a unique visual experience.
The eighth work is called Garden in Spring. This piece presents to the audience a painting within a painting: are those two people admiring the beautiful spring scenery outside the window or are they admiring a piece of oil painting? Different people would have different interpretations while watching this work. It might trigger their imagination. But for artists, their work is done when they finish the painting itself.
Toni: How has the pandemic impacted you in the past two years? How was your experience working with galleries during these past few years?
Guo: The pandemic has calmed the world down and slowed it down. We started to think about the questions that we never had the chance to think about. My daily life is very simple and follows the same routine. I go to my studio almost every morning. After a cup of tea and with a clear mind, I start painting until the evening when I go back home. Sometimes, there would be some social events, but not many. Most of the time, I spend my days alone in my studio. In fact, it has been my conscious choice to put myself in a relatively self-isolated state. From time to time, I also go to exhibitions. Of course, there were not many exhibitions during the pandemic. For painters, we need a quiet environment and need to let go of distractions to allow independent thinking. I very much enjoy my current state, having an independent space for me to do what I love, and with tremendous support from my family. Usually, I only look ahead and work on my paintings without caring about other things. So, I feel that I am lucky to be able to live a life like this.
Toni: I know that you have been traveling between China and Canada. How do you feel about your life in Canada in these years?
Guo: I have been staying in Canada without traveling back to China for three years due to the pandemic. As a matter of fact, I could live anywhere as long as I have the basic necessities. My social life is very limited because I spend most of my time in my studio. I have several artist friends who share the same aspirations as me in both China and Canada. China is developing very fast, and life there is enriched with all kinds of activities. But that also means more social activities for me. Canada, on the other hand, is a country of immigrants, with picturesque sceneries, honest people, and diverse cultures. My life is very simple. To merge with Canada requires me to actively keep an open mind, while accepting the differences caused by language, culture, and customs. Never treat yourself as an outsider. The life of early generations of immigrants was tough. They have created a better social environment for the coming generations of new immigrants. We should feel grateful for their contribution. In the past two years, I have been working even harder because of my collaboration with Pepe. He is such an amazing artist.
Toni: As a female artist, what are your thoughts on female identities during your artistic creation?
Guo: I give little thought to that during my career because I believe that art has no gender preference. There is discrimination against women because it is, in the end, a male-dominated society. I participate in some exhibitions of female artists every year. I am also a member of many female artist groups on WeChat and have many female artist friends. We always support each other, though we are not active chatters on social media because the overdeveloped Internet has already interfered with our daily life. The studio where I used to work had no Internet connection. All I did was painting or reading when I was there. Emails were only replied to after I returned home. However, we can access the Internet anytime now with our mobile phones. Our time becomes fragmented. This impact could be significant if one does not have strong self-discipline. I also donate my works occasionally to charities supporting young girls. I believe that, as a female artist, I have the responsibility to attend to and promote the social status of women in our society. Rights can only be earned through our own efforts. Respect for women is also a criterion of social civilization. Women, or in general, people, are less respected in places where people are ignorant.
Toni: As a professional artist who has practiced art for many years, what is your opinion on the so-called institutions and alternatives in the world of art?
Guo: I rarely think about that question. Like writing, painting is the representation of one's secret world. I started to keep my distance from institutional influence early in my career. Or in other words, I have always been the alternative that fails to align myself with institutions. It seems that, for so many years, I only followed my own pace. Maybe it is because I had a relatively less demanding family environment. I graduated from the Department of Painting from Xi'an Academy of Fine Arts in 1995. I have been practicing painting since then. I never spent any time in the institutional system, and I don't like to be limited or controlled. I am a free spirit, I would say. Therefore, I feel that I can rarely be influenced by a certain kind of popular cultural perception. After practicing visual arts for so many years, I have developed my own system of aesthetic perception, which cannot be easily altered by external factors. Anything that fits me is the best. The aesthetic standards are set by my own perception.
It is the same when it comes to the discussion of the mainstreams and the alternatives within the arts. Maybe someone would consider him/herself a powerful influencer in a certain community. But what if that community itself is the alternative already? It is like the social media feed you post. Only your friends who follow you on social media and happen to be online can see it, and your post might not even be interesting to them. Each one of us lives in our own small world, which is extremely tiny. The fact is that many people think they have a greater influence, but they do not. Besides, there will be a metaverse in the future, a decentralized virtual world established on blockchains. In that scenario, being institutional or not is a more absurd proposition. The influence of an artist consists of many factors. It can never be judged by one single value system. Such influence can be time-transcendent, and the people living in that era just fail to be aware of that. For example, Pepe is a very special artist. He has a super brain capable of exercising wild sci-fi imagination. We can always see multi-dimensional space in his works. On the other hand, he said that my recent artistic practice was experiencing a stage of colour explosion. That makes our paintings so different in style. But that difference has made our collaboration an exciting and interesting journey. I feel deeply honoured to have the opportunity to work with a great artist like Pepe.
Toni: Your collaboration with Pepe Hidalgo has produced very successful art pieces in the past two years. Will the two of you be joining hands again in the future?
Guo: Of course, there will be opportunities for future collaborations. But I'd rather let our co-creation take its own course. Human civilization evolves because of the migration of human beings. It is a journey of communication, exchanges, and mutual influences. I still remember that I received the book, One Hundred Years of Solitude, as a gift from a friend when I was young. I didn't know it was a world-famous literary masterpiece. I tried to finish it, but I only got confused because of the complicated relationships between different characters and all the hard-to-remember names. So, I didn't finish reading it in the end. Now, when I recall the magic-realistic approach of the book, I feel that it very much resembles my collaboration with Pepe: crossing the differences of time, geographic locations, and culture, with ineffable complexity. Outside the limited verbal communication, there exists unlimited artistic possibilities. It is fascinating because of its realistic and, at the same time, magical sides. It is just like art itself that can never be defined.
2022.2.22关于《生生不息》展策展人与艺术家的访谈
张玥:温哥华力邦美术馆馆长
郭燕:艺术家
张玥:您和西班牙艺术家佩佩·伊达尔戈,即将在温哥华力邦美术馆再次举办展览,展览主题是《生生不息》,这个主题在这个时候非常让人期待,您能谈谈吗?
郭燕:关于生生不息这个主题的确立,可以理解为对现实环境本能的一种抵抗和消解。这两年我们关注更多的是瘟疫,火山爆发,死亡和经济的衰败,毎天网络上有大量的负面消息,信息大爆炸的时代,让每个人内心都很焦虑很无助,然而艺术可以治愈人的心灵,在这个时候也特别的需要。我们把展览选择三月份,是因为春天来了,万物复苏,让人对这个世界很有期待,有一种很强的自我心里暗示,我们也希望这场疫情赶紧结束,让一切都恢复正常。所以这是一场关于春天,生命和希望的展览,也是对我们两年来合作友谊的一个见证。
我们上次合作的展览在2020年11月10日,展览的名字叫《灵魂的原乡》,我展出的是诺亚方舟和自然的边界这两个系列。创作那批作品的时候还没有疫情,后来疫情才开始发生,那时我主要想表达灵魂深处对现实对环境对未来的忧虑,没有疫情的时候我画《诺亚方舟》,有疫情的时候又画《生生不息》,我这个人好像老是和现实不同步。佩佩当时的作品呢是主要画的是室内人物,家庭朋友和一些非常微妙的情感关系,在同一时间我们对美术史中的一些经典的人物都特别感兴趣,我们用自己的绘画语言重新定义,我画作中美术史中的人类在诺亚方舟上寻找应许之地,寻找一个理想的的彼岸,佩佩·伊达尔戈也重新定义了许多经典作品,用他自己独特的风格,完全消解和改变了常规的视觉认知。这一次他的新作是由12张画组成的一件大作品,非常震撼。
张玥:你们大概认识了多长时间?好像当时在我们美术馆认识的。
郭燕:是的,我和佩佩·伊达尔戈是两年前在力邦美术馆展览上认识的,当时交流非常有限,因为他说西班牙语,我说中文,我们两个的英文都非常有限,但艺术是无界的,艺术本身也是一种语言。所以我们很快成为朋友,也开始了合作作品的计划。其实仔细想想我们属于现实世界里很难有交集的人,完全生活在两个不同的圈子,但因为偶然的相遇,对彼此艺术的热爱,最后很自然的谈到一起合作,听起来也非常魔幻,如同我们合作的作品一样,视觉感很陌生,每件作品在未完成时都有无法预知的新鲜感,每一件作品背后都有一些有趣的故事。
张玥:合作应该是一件很不容易的事情,你们这两年合作顺利吗?
郭燕:如果在从前,我很难想象和另一个艺术家合作一件作品,因为艺术创作是一个特别个人化的事,合作关系到太多的因素,包括艺术观念的基本认知,专业相互认可。在创作方面我们俩达成共识,我们合作前提是必须保持自己独特的绘画语言和风格,来创作共同完成同一件作品。经常我们会为一个主题思考讨论很久从十多个选题中选一个作为作品的主题,佩佩也会发许多关于合作主题的文献资料给我,这种探讨沟通的过程也是两个艺术家交流学习的一个过程。他四十多年来专注于绘画,有一个非常良好职业化的状态,工作强度也很大,这令我很钦佩。他和我一样也是六,七年前定居在温哥华。有这样一个合作伙伴很难得,我也很珍惜我们之间的友谊。
张玥:通过这两年合作,您对艺术家佩佩·伊达尔戈的印象是什么?我知道很多机构都在邀请你们一起办展,你们有下一步计划吗?
郭燕:我感觉他是一个内心很单纯的人,也是一个蔑俗轻规的艺术家,他很西班牙,也很感性直率自我,如同他的作品,有一种特别的单纯而快乐的气质。他是一个很享受绘画的人,他对艺术的态度很学术,很严谨,也很有思想。一个非常优秀的艺术家,做人很低调,做事很豁达感性。对审美有超乎常人的敏感,想象力丰富,他有自己独特的绘画语言和风格,作为一个艺术家这一点其实特别重要。也就是说他内心很强大,有一个自己独特的艺术认知,他组建了一个属于自己的艺术王国。
他的夫人诺琳是加拿大人,全力的支持他的艺术,诺琳精通西班牙语和英语,经常帮我们俩现场翻译,也在耐心的教我英文,她是佩佩最得力的助手,每次看到诺琳,我都会感觉佩佩很幸福,生活中有许多事情需要面对,但他似乎最关注他的绘画。
他大量的时间都在画画,现在许多加拿大的艺术机构也在邀请他去办展览,疫情中他还在阿尔伯塔那边做了个展,中国许多艺术机构也在邀请我们,因为前期准备工作量比较大,我们也希望有一个完美的呈现,所以在国内的展览我还是想疫情结束后再计划。
他这次展览的新作,我的理解是关于人类的起源到人工智能,到宇宙万物。是一个特别宏大的命题,我说他画的是元宇宙,虽然元宇宙是现在的概念,其实他很多年前都在画一些圆球,他说他画的是分子,他说世界是由分子组成的。他的画会经常出一条绳子,他说那连接世界的脐带,我说他关注的这个点和埃隆·马斯克一样的,只是他用了一种艺术的手法,很理想魔幻,很超现实!
张玥:我知道去年你们合作的作品在展览前就被藏家预定,受到很多业内人士的好评,能谈谈这次展览你的新作和你们合作的作品吗?
郭燕:实际上我在创作时没有太多的想市场的问题,市场是我们自己无法把握的,只想表达近期感兴趣的题材,尽力而为的做好,刚好有藏家喜欢,所以也要感谢藏家的支持。
这次我主要展出《生生不息》系列作品,描述的是人与大自然的关系,我非常主观化的把人物处理成半透明的状态,把树的枝干处理成人体血脉一样的颜色,有点天马行空,人和大自然的万物融为一体。这可能是我骨子里的浪漫主义色彩影响,在这个特别的时期对人类社会的一个美好的祝愿,艺术处于现实之中,又游离于现实之外。在创作过程中有一种热爱自然并与之同化的愉悦感,我很享受我的创作过程,每天都是在创造全新的一天,每天也都觉得时间不够用,也时常对自己不满意,有好皆有所累,但作品成为了时光流逝的痕迹,也是我的人生印迹。
因为和佩佩的合作,我经常去他的工作室,有一次我们在窗户边上聊天,看到一只特别漂亮的蓝色小鸟飞到露台的栏杆上,他告诉我那是他经常喂养的小鸟,他每天都会飞来和他打招呼,说着他就拿起一些花生在手中喂鸟,我感觉挺神奇,人与自然在那一刻特别和谐。我就想画出那种感觉,人和宇宙万物伟大又渺小。
艺术没有国界,也不分东西,人类对美好的事物都有共同的认知,我们这两年来一共合作了八件作品,除了这次刚刚完成的新作,其余几件都被一些艺术机构收藏了。虽然每一件作品都来之不易,但得到更好的保护或者展示还是让我们很欣慰的。我记得每一件作品当时的创作情景,每一件作品完成后的那种喜悦。整个合作过程用各自的视觉感受艺术认知努力来完成,风格迥异却又殊途同归。
我们合作的第一件作品叫《回到阿勒山》。
圣经里《创世纪》一篇中记载,诺亚方舟在大洪水后,最后停泊的地方就叫阿勒山,这是个最美好的象征,一个回到全新世界的隐喻。
第二件合作作品叫《应许之地》,这是一个宏大的命题,被上帝护佑的流着奶和蜜的土地,哪里会是滋养艺术家的应许之地?
第三件作品叫《梦想的彼岸》我用俯视的角度画了六个人在小船上,他也画了六个人在船边对应,梦想的彼岸,我们都是从遥远的彼岸移民在此,一种对未来生活未知的不确定的期望。
第四件作品叫《巴别塔》,这件作品对两个移民海外的艺术家有着重要的意义,因为有我们个人生活经历的影射,上帝有意让人们有不同的语言,丰富多元的文化。他定居温哥华有六七年,我也有六年多时间。这件作品是关于人与自然,移民文化和守护家园的叙述。画面远处美丽的家园与巴别塔下植物的根系在两个风格迥异的画家笔下融合。
第五件作品叫《二十一世纪的诺亚方舟》远方的灯塔和岸上的人与动物,以及湖蓝色的海水,上半部分是佩佩创作的,白天和夜晚,日月同辉,这是关于人与自然和守护家园的美好期望。
第六件作品叫《生机盎然的未来花园》,未来花园是魔幻现实主义般的时空穿越。上半部分是佩佩·伊达尔戈创作的,一个完美家庭,下半部分是我的典型风格,一个绿色的天使花园,相比前几张合作作品,这件色彩更为丰富。
第七件合作作品是《进入梦想花园》,这张画视觉很特别,我画了一个传统的中国园林,他画了几个在墙外观望的人,准备走入一个中式园林,强烈的文化传统反差带来特别不一样的视觉感受。
第八件作品叫《春天里的花园》,这件作品呈现画中有画的场景,两个人在欣赏窗外春天美景,还是在欣赏一张油画?
毎个人看完作品都会有不同的解读版本,可能会引申许多想象,而对艺术家而言,这张画画完了他们的工作就完成了。
张玥:这两年的疫情对你有哪些影响?应该许多展览都取消了吧?
郭燕:是的,疫情让整个世界都安静下来,慢下来了,我们开始思考许多不曾想过的问题。我平时的生活极其简单规律,几乎每天早上到工作室,从喝一杯茶静下心来后,开始画画,一直到晚上回家,偶尔会有一点应酬,但非常少,绝大多数时间都是一个人在工作室度过。实际上是长期主动地处于一种自我隔离的状态中,平时偶尔会去看看展览。疫情中许多展览也少了。画画的人需要有一个安静的环境,心里要放下现实中很多东西,可以独立思考。我很享受现在的状态有一个独立的空间一直在做自己喜欢做的事情,家里人也很支持,我经常是只望前看,埋头画画,很少关心别的的事情,所以感觉自己还是很幸运。
张玥:我知道您这几年一直是中加两边居住,您在加拿大这几年生活的感受是什么?
郭燕:因为疫情我已经两年没回国了,我其实到哪里生活都可以,只要有一点基本的生活物质保障,我的生活圈子很小,因为绝大多数的时间都是在工作室中度过。两边都有几个志同道合的艺术家朋友,这个特别重要。国内发展快生活很丰富,但应酬也会多。加拿大是一个风景秀丽,民风淳朴的多元文化的一个移民国家。我生活本来就很简单。所谓的融入除了接受语言文化习俗的差异,更多的是自己要有积极开放的心态,别总是把自己当外人。早期的移民很不容易,为我们现在的移民创造了许多良好的社会环境,我们后来的移民应该感谢前辈的付出。这两年因为和佩佩合作,我其实比以前要更努力,因为他很优秀又很勤奋,让我很有压力。
张玥:作为一个女性艺术家,您在创作中对女性身份有哪些思考?
郭燕:在我的创作中这方面我想得很少,因为艺术是没有性别之分的。女性会受到歧视是会有的,毕竟这是一个男权社会,我认识的许多女艺术家做艺术更纯粹。我每年都会参加一些女性艺术家的展览,我有很多个女艺术家的微信群,也有许多女艺术家朋友,我们会相互支持,只是在群里很少上去说话。因为网络的过于发达已经影响干扰了我们的生活状态。我以前的工作室是没有互联网的信号的,到工作室就画画看书,所有的邮件回家处理。但现在手机可以随时上网,时间全部碎片化,如果没有很强的自制力影响还是很大的。我偶尔也会捐赠作品给一些支持女孩的慈善机构,因为作为女性艺术家有责任推动和关注女性社会的地位,权力永远是自己争取的,对女性的尊重同样也是一个社会文明的标志,越是落后愚昧的地方越是不尊重女性,当然也不尊重所有人。
张玥:做为一个职业艺术家您从事艺术这么多年来,您怎么看待艺术界所谓的主流和边缘?
郭燕:其实很少想这个问题,我从小就喜欢画画,画画也是个人思想隐秘世界的再现,和写作是一样的,自由工作者或者叫个体户,我好像从小就和主流意识有一定的距离,或者说一直在边缘不能同步。比较草根的状态,从来也没加入任何艺术协会,也许是小时候有一个宽松的家庭环境。
我95年西安美院油画系毕业,毕业后基本上一直是自己在画画,从来没有在体制里面呆过,主要也不喜欢受管制,自由散漫习惯了。我觉得自己并不会轻易为某种流行文化意识所左右,当你从事多年视觉艺术之后,你也会有一套自己的审美认知体系,并不会轻易受外界的影响,适合我的就是最好的,美的标准通常是自我认知定义的。绘画让我自己感觉很快乐,这样也就够了。
所谓主流和非主流也是一样,也许有人会认为自己的在某个圈层很主流很权威,也许这个圈层本身就很边缘。就像你发了一条朋友圈,只有你的朋友或者刚好有时间再线的朋友看到,也许还没有引起共鸣。每个人都活在自己的小世界,其实都很渺小,有些人自我放大了他的影响力而已。何况未来还有元宇宙区块链去中心化的虚拟一个世界,所谓主流与非主流更像一个伪命题,艺术家的影响力是许多因素造就的,并非一个单一的价值体系来评判,也许他是超越某个时代的。而当时的人并没有意识到。就像佩佩,他很特别,他有一个超级科幻想象力丰富的大脑,他的作品经常出现多维度空间,他说我近期创作在色彩爆发期,我们俩的作品气质完全不同,差异很大,正因为这样的差别合作更有意思,能和这样一位优秀的艺术家合作我深感荣幸。
张玥:我能感觉到你们合作非常默契,两年多合作成果丰硕,未来你们还会合作吗?
郭燕:当然还会有些合作,一切顺其自然。
我想人类的文明,就是人类的迁徙,交流沟通和相互影响进步的过程。我记得小时候我有一个朋友送了我一本《百年孤独》,我当时也不知道它是世界名著,我曾经试着看完,但许多复杂的人物关系和人名,我越看越糊涂,所以我一直没有看完,后来我一边画画,又一边听了关于这本书的一些介绍。现在想想这个魔幻现实的文学代表作,感觉还挺像我们的合作,有一种时间地域文化的穿越,有一种无所言说的复杂性,在有限的语言沟通以外,又有无限的艺术创作可能性,很有趣,很现实,也很魔幻,像艺术本身一样无法定义。