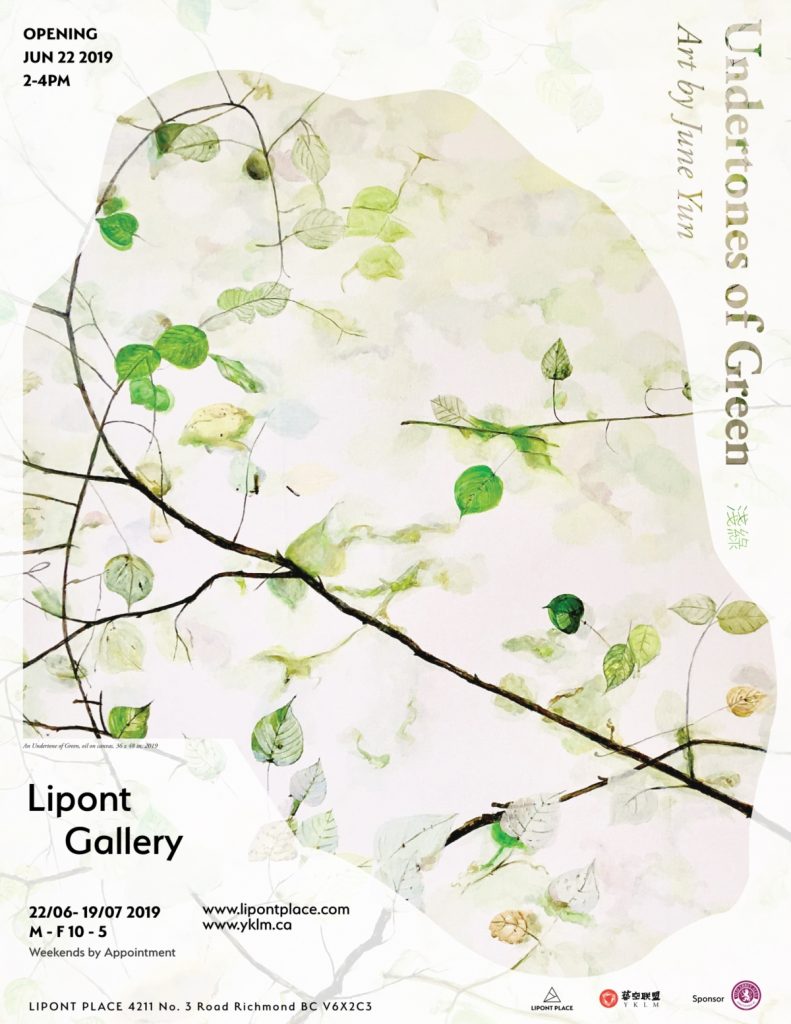 Undertones of Green: Paintings by June Yun
Opening: Saturday June 22, 2019 2-4pm
Exhibition: June 22 – July 19, 2019 Free admission.
Monday – Friday 10am-5pm weekends by appointment
"Your mind is like a beautiful pool of water reflecting the world around it." – Hugh Kidd
Although art is her passion and painting is her meditation, June Yun considers herself a mixed media artist. Besides painting and drawing, she works with printmaking, video and installation.
During the past decade, water and clouds are the other predominant subjects of her art. She uses them as metaphors conveying aesthetics of her Chinese background: simplicity, tranquility, and solitary. Oriental people's perception and admiration of water have informed the wisdom of the East. That is also why traditional Chinese art assumed ink and water as the medium and the language of landscape paintings. The mercurial forms of water and its reflections build a dreamlike mirage on June Yun's canvases. Floating clouds are another form of water. They seem vague, unreachable, ethereal and even intangible for some humans, yet June Yun can transcribe her fleeing memories through the water, clouds and mist in her art.
In the springtime of 2019, June Yun started a new series of paintings called Undertones of Green that extends the subject from water to the ubiquitous tender green that is reflected in water. "The greenness of Vancouver in springtime filled my world. Breezes rippled on the glistening water; fresh flower buds were almost ready to become bloom. Spring was in the wind, in the trees, on the ground, filled my lungs, ran through my hair and danced in my dreams, and then the paintings came into being naturally." This series of paintings straddle the line between abstraction and representation. They not only capture the realistic side of the ambiance of spring season, but also colour June Yun's reverie, be it reality or dream.
June Yun
June Yun was born in China. She lived and studied fine art in the U.K. and received her Master of Fine Arts Degree from University of Newcastle upon Tyne. Since 2001, she has been living and working in Vancouver as a full-time artist. Yun's work has been exhibited internationally, including solo shows in the U.K., France, China, in venues such as Himalaya Art Museum in Shanghai and Richmond Art Gallery, Banff Centre and Lipont Gallery in Canada. She participated in The Radius Mural and Big Prints public art projects in Vancouver and received several art awards from Europe, Canada and China