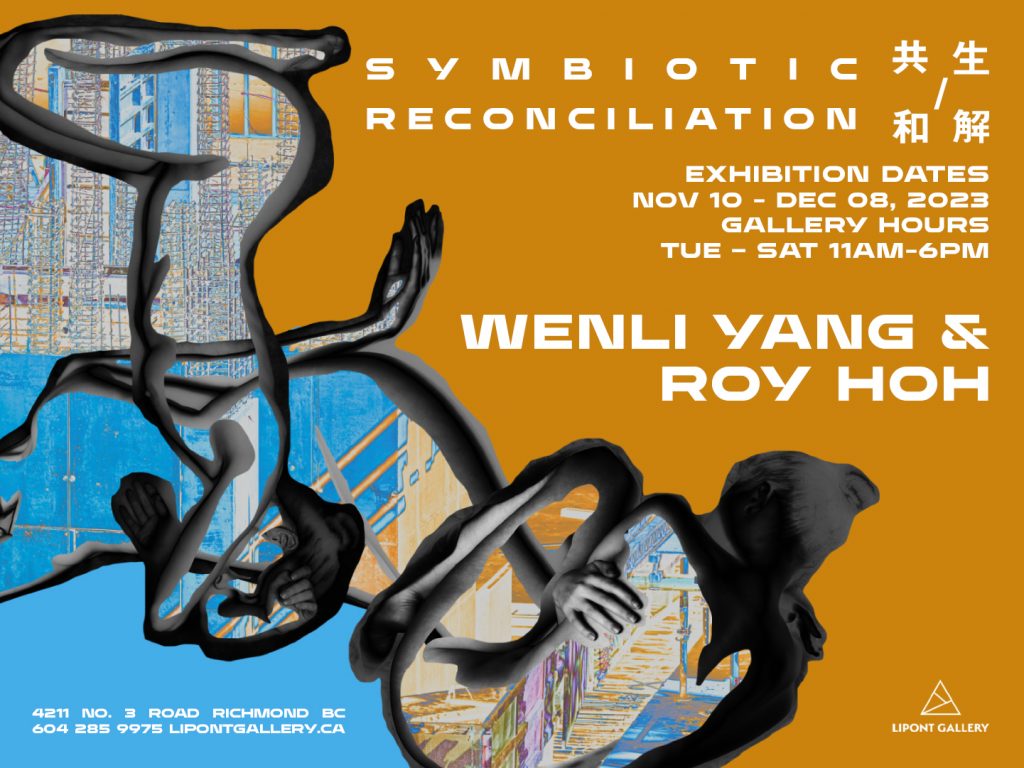 Symbiotic Reconciliation (共生·和解)
Art by Wenli Yang & Roy Hoh
Opening Nov 10 7-9pm, 2023
Exhibition: Nov 10 – Dec 8, 2023
At the Lipont Gallery, we are proud to introduce the visionary works of the Vancouver and Richmond-based artist duo, Wenli Yang and Roy Hoh (a.k.a Shengqiang He). Their upcoming exhibition, Symbiotic Reconciliation, explores the intricate interplay between humanity, space, and nature through a diverse array of mediums—including paintings, installations, lens-based works, and collages. This new body of work, now revealed for the first time, showcases their exceptional design prowess and conceptual depth.
Vancouver, a city repeatedly lauded for its unparalleled quality of living, offers a dynamic fusion of lush natural landscapes and urban sophistication—a testament to its reputation as a place that both enriches and sustains. However, the once-celebrated provincial motto, 'British Columbia – The Best Place on Earth,' has been subtly retired, hinting a shift in values. This transformation, accelerated by the pandemic's profound impact on our understanding of life quality, resilience, and environmental consciousness, serves as a poignant backdrop for Yang and Hoh's artistic inquiry.
Drawing inspiration from Vancouver's storied neighbourhoods, the ubiquitous real estate developments, and the region's verdant flora, Yang and Hoh's artistry captures the evolving narrative of the city. Their work transcends mere aesthetic appeal, delving deep into the essence of our coexistence with the urban and natural worlds. It is a synthesis of thoughtful interpretation and visual allure, challenging the boundaries of time through the meticulous handcrafting of art and the transformative chemistry of materials.
The innovative imaging techniques employed by Yang and Hoh culminate in a unique visual language, one that we believe will captivate and engage our audiences. Symbiotic Reconciliation is an invitation to rediscover and reassess the delicate balance between urban development and natural harmony. Through this exhibition, we aspire to ignite a conversation on the profound and complex connections that define our existence within the urban tapestry and its environmental counterpart.
Symbiotic Reconciliation (共生·和解) – Art by Wenli Yang & Roy Hoh will open at Lipont Gallery, 4211 No. 3 Road, Richmond BC from 7:00pm to 9:00 pm on Friday November 10th, 2023. The exhibition remains on view until December 8th. The gallery opens from Tuesday to Saturday from 11:00 am to 6:00 pm or by appointment. Admission is free.
【共生·和解】杨文俐、何胜强艺术展
开幕:2023年11月10日
展览:2023年11月10日至12月8日
温哥华力邦美术馆荣幸地向大家介绍温哥华艺术家杨文俐与何胜强极具视觉效果的艺术作品。他们的最新展览【共生·和解】通过绘画、装置、摄影、拼贴等多种艺术手法探索人、空间和自然之间复杂的关系与影响。这些作品系首次亮相,展示了两位艺术家卓越的创造实力和概念深度。
温哥华是一座因其高生活质量而屡获赞誉的城市,郁郁葱葱的自然景观与精致的城市完美融合。然而,曾经著名的赞语"卑诗省——地球上最好的地方"正逐渐消失,这暗示着其价值上的改变。疫情深远地影响了我们对生活质量、自我修复力及环境意识的理解。这些因素为两位艺术家提供了创作背景。
杨文俐与何胜强从温哥华人们熟知的社区、随处可见的房地产开发以及温哥华青翠的植物中汲取灵感,用艺术捕捉了这座城市正在不断演变的故事。他们的作品超越了单纯的表象上的审美吸引力,而深入探讨了我们与城市和自然世界共存状态的本质。他们的作品是深思熟虑的诠释和视觉魅力的综合体,来自于他们精心的艺术手工制作和对材料的不懈实验。
两位艺术家在图像中所采用的创新技巧最终形成了独特的视觉语言。【共生.和解】邀请观众重新发现和重新评估城市发展与自然和谐之间的脆弱平衡。通过这次展览,我们希望引起一场在与城市环境及相关事物之间深刻而复杂的关系中,我们如何生存的讨论。
Sheng Qiang He (Roy Hoh)
Roy Hoh is a multifaceted artist whose educational roots were laid at the Sichuan Fine Arts Institute's affiliated Secondary School, further branching into the realm of design with a bachelor's degree from the Beijing Institute of Fashion Technology. His pre-immigration career in Beijing saw him excel as a visual director for various prestigious institutions and organizations, honing his aesthetic sensibilities and narrative skills.
Since relocating to Canada in 2010, Roy has carved out a niche for himself as a professional photographer in Vancouver, intertwining his artistic practice with pedagogy, thus nurturing both his craft and the community. His work is a testament to his profound interest in discerning the singular essence of his subjects, which in turn, stir subjective emotions within him. Roy's process is characterized by spontaneity, led by surges of inspiration that guide him to capture a harmonious synchrony between his introspections and the external world.
Influenced by the philosophical depth of Eastern thought and the visual dynamics of Western art, particularly the post-impressionist movement with its accent on personal perception shaping the outer world, Roy has refined his palette to utilize colour as a primary vehicle for emotional and visual impact.
Through the lens of his camera, Roy documents the interplay of form, light, and colour, translating the mundane surroundings into either figurative snapshots or abstract interpretations. The camera, his constant companion, provides him with a spectrum of shadows and light, empowering him to transcend traditional constraints and explore the vast continuum between representational imagery and abstract concepts.
Education
Beijing Institute of Fashion Technology, Bachelor of Design
Sichuan Fine Arts Institute affiliated Secondary School, Visual Arts
Events
2020-2021, the work "Constant Ancient" is featured in Art Photography Awards 2021 Competition Gallery of LensCulture
2019, the work "Heyday", "Five Elements of Gold #01", "Five Elements of Gold #02" participated in the fifteen Chinese and Mexican artists group exhibition "Bridges of Friendship—Vision Reality and Abstract Passion"
2019, the work "Heyday" was exhibited at R Space in Vancouver
2017, the work "Leafless Flower" participated in the auction and was collected by a collector and the fund was donated to the Vancouver Rotary International Polio Project
2017, 2018, Supporting VGH & UBC Hospital Foundation – the works "Boundary", "Five Elements of Gold #01", "the Life of Art" participated in Young Artist Exhibition Auction and collected by collectors; and the fund was donated to charities
2017, the Works "Sunny" and "Boundary" participated in the " Luminosity & Rhythm", the second International Chinese Photography Exhibition in Vancouver, collected by collectors
2017, the work "The Flower with No Leaf" participated in the "Harmony-The First Global Chinese Photography Art Exhibition", collected by a collector
2008, worked as the visual art director at Beijing Times Art Museum, curated "The Vision of You and Me – 2008 China Olympic Photography Exhibition"
Wenli Yang
Wenli Yang, a distinguished artist residing in Vancouver and Richmond, is an alumnus of the prestigious Tsinghua University, holding a Master of Design (MDes). Her early career was marked by a tenure at the Beijing Institute of Fashion Technology, where she imparted her knowledge in artistic design. Her journey led her to Canada, where she furthered her studies in visual arts at renowned local universities such as the Emily Carr University of Arts + Design, immersing herself in Vancouver's vibrant artistic milieu.
Yang's artistry is deeply rooted in the introspective quest for self-awareness. As an immigrant who has traversed cultural landscapes from her native town to Beijing, and now Vancouver, her works are imbued with a profound inquiry: 'Who am I?' This existential exploration is a leitmotif that runs through her oeuvre, inviting viewers to partake in her search for meaning within the human condition.
Equally central to Yang's practice is her fascination with special visual effects—the aesthetic alchemy that transforms the canvas into a captivating spectacle. She regards visual effects as the quintessence of artistic beauty and invests deeply in pioneering diverse expressions through her art.
Beyond the personal and aesthetic, Yang is attuned to the universal—her work often addresses global concerns, striving to ignite a collective consciousness about environmental stewardship and the legacy we bequeath to future generations. Through her artistic endeavors, Yang aspires to not only challenge the viewer aesthetically but to evoke a sense of responsibility and reflection on the pressing issues that transcend borders.
Education
Emily Carr University of Art & Design, Visual Arts
Kwantlen Polytechnic University, Visual Arts
Tsinghua University, Academy of Art & Design, MDes
Beijing Institute of Fashion Technology, Fashion Design
Sichuan Fine Arts Institute, Affiliated Secondary School, Visual Arts
Events
2022, The Memory of a Hometown received Bronze Award from Camelback Gallery, Shades of Red 2022 International Juried Visual Arts Competition
2022, Me in A Chair Participated in Portrait Art Exhibition, Artist Space Gallery
2021, Me in A Chair received the Bronze Figurative 2021 Exhibition
Award from Camelback Gallery
2020, Recreation of Johannes Vermeer's A Young Woman Seated at a Virginal is published in Dr. Alena Buis' essay "St. Corona: Teaching Art History during a Global Pandemic"
2019, Me in A Chair was featured online by KPU's Fine Arts Faculty
2019, Illusion participated in the group exhibition at "R Space" in Vancouver
2005, the series of works The Memory of a Hometown are published in the professional magazine DECORATION
2003, translated the reference book Gavin Ambrose's The Fundamentals of Creative Design
2002, the essay "Computer and Artistic Design" is published in the professional art magazine ZHUANGSHI
1999, the drawing of flowers is published in the collection Expression of Decorated Plant