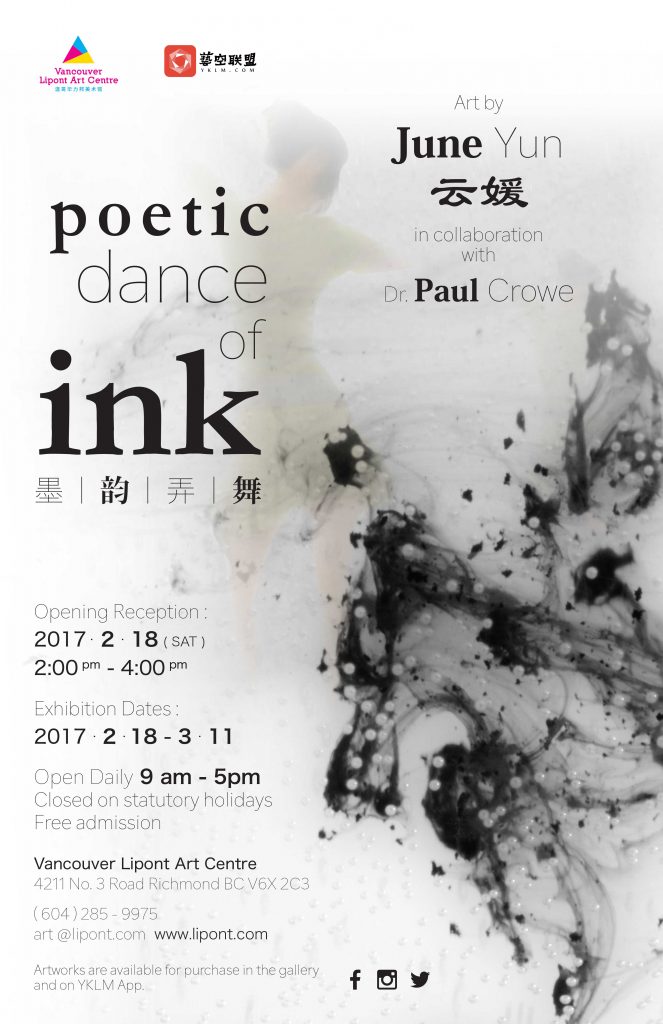 February 18, 2017 – March 11, 2017
Exhibition: Poetic Dance of Ink – Art by June Yun in Collaboration with Dr. Paul Crowe
Opening Reception: Saturday February 18, 2017 2:00 – 4:00pm
Exhibition dates: February 18 – March 11, 2017
The concept of "Poetic Dance of Ink" originated ten years ago from artist June Yun's idea on an art installation that combines ink, water, dance, music and photography. After years of incubation, this project is now realized with orientalist Dr. Paul Crowe.
This exhibition is the first artwork between June Yun and Paul Crowe in exploring their shared aesthetic and interests: water is their theme, dance is her passion. Daoism is his philosophy; ink painting is the root of her art—dreamy mist is their shared aesthetic. June used herself as a model while Paul used multiple and long exposures to photograph the flow of June's dance movements. Playing with time and fleeting moments, June's movements were echoed in the dance of black ink in water, which is once again captured photographically. Through these parallel poetic motions, both sets of images became the materials for June to create a series of twenty new multi-layered images on mylar.
June Yun
June Yun is a Vancouver-based Chinese-Canadian artist. Her artwork builds on the edge of Eastern and Western cultures. Through her life and travel experiences from East to West, and then looking back at the East, she transforms her appreciations and struggles into visual forms: oil painting, drawing, video and installation. Those framed thoughts are sublimates of her inside words and passions, made more simple and quiet in their external form. Yun has exhibited internationally since 2000, in China, Europe, North America; received grants and awards nationally and internationally, including Canada Council for the Arts and BC Arts Council for Professional Visual Arts.
Dr. Paul Crowe
Dr. Paul Crowe has a MA in Asian Studies and a Ph.D. in Asian Studies with a focus on the historical interactions between Daoists, Buddhists and Literati (Ru 儒). He is fascinated by the various approaches to personal cultivation that evolved through China's history. In recent years Paul has taken up film and digital photography to explore their potential for art-making. He recently began a three-year certification in photography at Emily Carr University of Art and Design with a concentration to date on analog film photography and photographic print making.