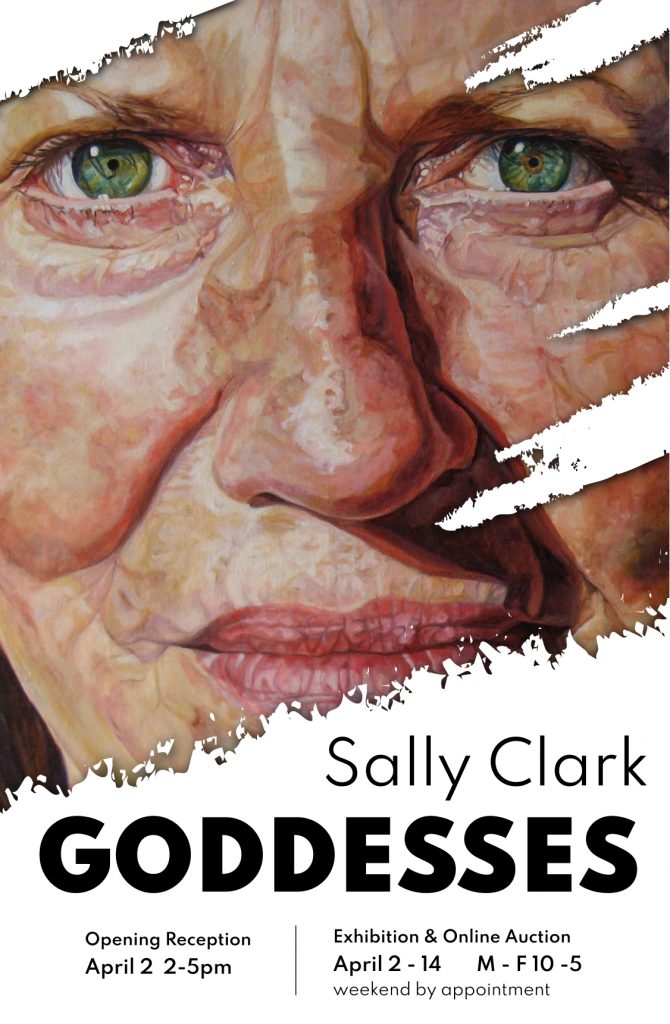 GODDESSES – Paintings by Sally Clark
Opening Saturday April 2, 2022 2 – 5pm
Exhibition
April 2 – 14, 2022
Originally from Vancouver, Sally Clark is not only an accomplished and prolific visual artist, she is also a well-known author, playwright and filmmaker with a decades-long artistic career and a recipient of Governor General's Award nomination. The Lipont Gallery is honoured to exhibit her painting series of women, entitled "Goddesses." The creation process of the Goddesses series lasted for more than ten years, including portraits of different "goddesses", different expressions of the same "goddess", and a goddess portrait of the artist's mother.
Why are portraits so captivating? Why do huge images of human faces always draw attention? Since ancient times, the face has been an important medium for identifying people. Facial expressions are one of the important media to convey thoughts, feelings, and emotions in addition to language expression. Throughout history, new chapters have been opened in the creation, uses and development of portraiture. In the era when there was no photographic technology, portraits were used to preserve imagery, memories, and information. Today, facial images play a much larger role on social media, and facial recognition will eventually become popular. When the huge, vivid faces drawn by traditional painting techniques are shown head-on, the first question that comes into audiences' mind might be: Who is this Goddess? What is she thinking? What is she trying to tell me? The exhibition invites viewers to find out the answers for themselves.
About Sally Clark
Originating from Vancouver, Sally Clark grew up among the wild landscape of British Columbia. She has had solo exhibitions sponsored by the Granville Island Cultural Society, the Vancouver East Cultural Centre and North Vancouver Arts Council. An artist of multiple talents, she is also a celebrated playwright and filmmaker, her plays having received a Governor General's Award nomination. Her multi-layered approach to oil painting emulates the Old Masters by developing her compositions "through underpainting and overpainting, so that the colour is formed optically by the light passing through the layers."
Sally Clark completed her B.F.A. degree at York University in Toronto. Her paintings were exhibited in several galleries in Toronto. She has also written several award-winning plays, which have been produced in Canada and the United States. Her novel, "Waiting for the Revolution" was published by Cormorant Books in 2010. The Granville Island Cultural Society, the Vancouver East Cultural Centre and the North Vancouver Arts Council have sponsored solo exhibitions of her paintings. Her work has been in many Federation of Canadian Artists (FCA) group exhibitions, receiving four Honourable Mentions. She received the Second Prize at the FCA POTE (Painting on the Edge) Exhibition in 2016. She was one of the Finalists for the Kingston Portrait Prize in 2017.
Artist Statement – GODDESSES Series
"I painted a series of close-on portraits of women, eleven in total. I found that each woman I painted embodied a certain quality. I want to create the sense that the viewer is looking at a giant woman, a goddess. And the goddess is looking back. I chose the size, 36 inches by 30 inches because the face is large, but the canvas dimensions are on a human scale; creating an interesting tension: large enough to engulf the viewer but not so large as to be threatening.
My Goddess paintings are landscapes of a human face; no longer the individuals but emblematic of something larger. The faces are the starting point for an investigation into the mystery of what it is to be human.
Are these portraits? Yes and no. They are themselves and they are the More of themselves."
– Sally Clark