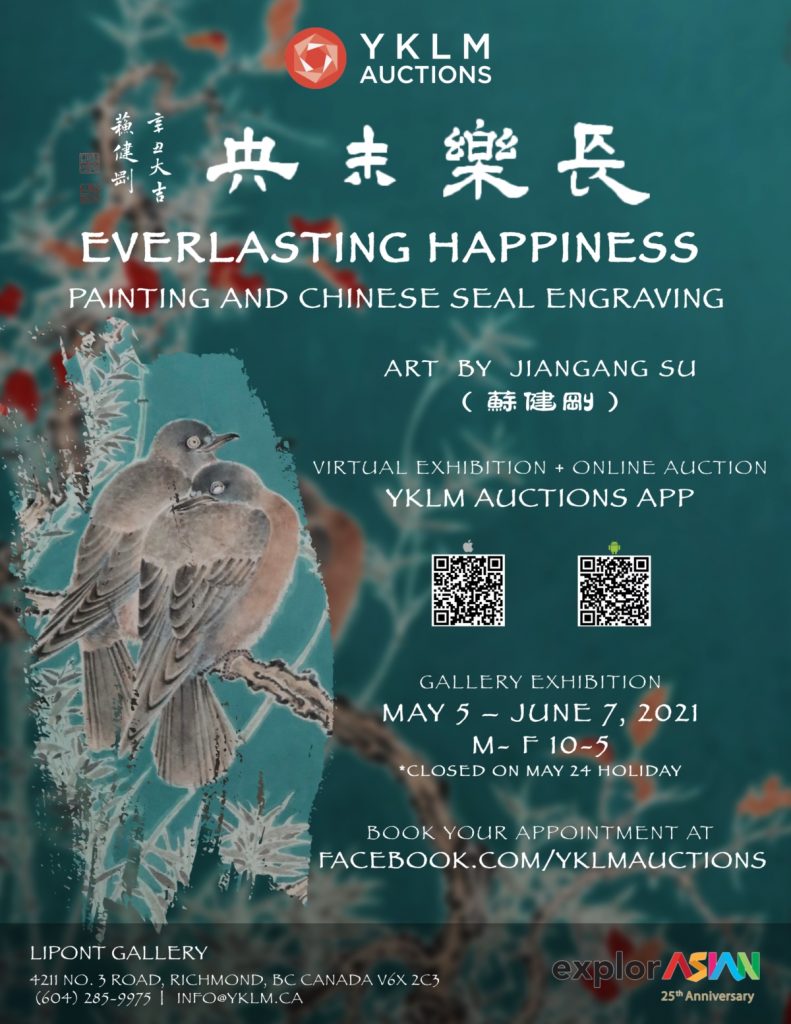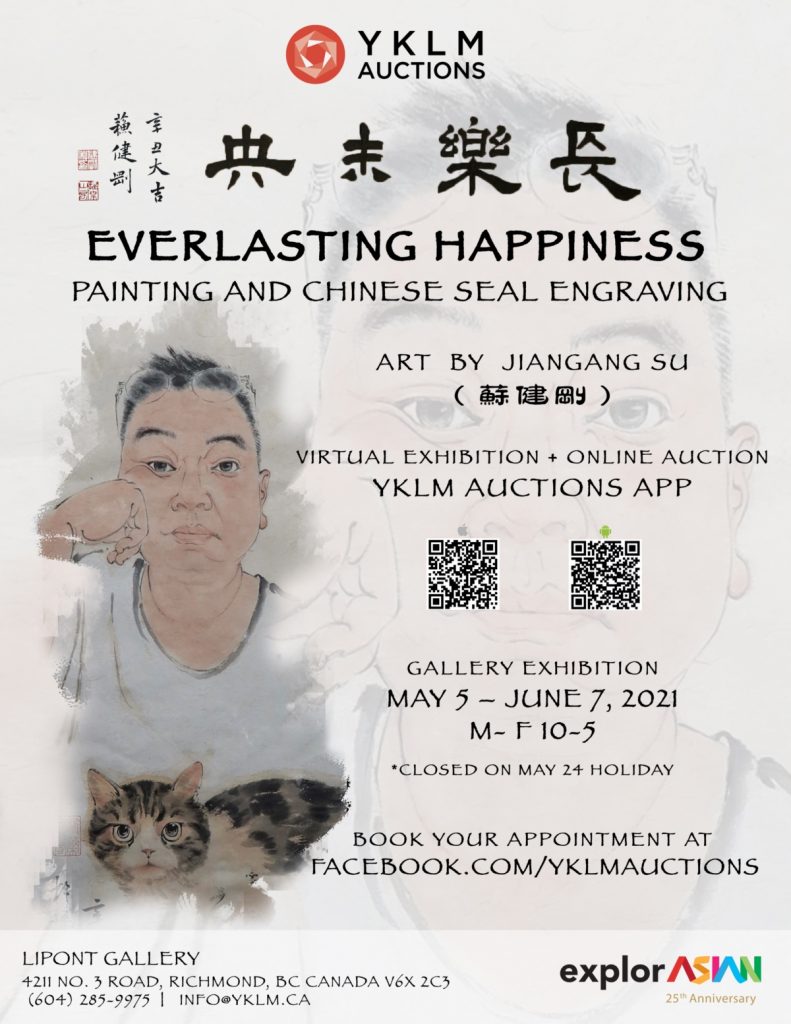 EVERLASTING HAPPINESS
Painting, Calligraphy and Chinese Seal Engraving Art Exhibition
by Jiangang Su
Exhibition: May 5 – June 7, 2021 M- F 10-5
closed on statutory holidays
Lipont Gallery & YKLM Auctions
4211 No. 3 Road Richmond BC V6X2C3
604-285-9975
Following the calligraphy and painting exhibition in the summer of 2020, after a year of dedicated work, artist Jiangang Su created Twenty-Four Solar Terms Seals and related paintings and calligraphy works.
The rich and diverse shapes of the engraved stone seals, fonts and colour, the delicate and elegant writing of the fine zhuwen (characters on a seal carved in relief), and baiwen (intagliated characters on a seal) have beautiful meanings integrated into the fineness and subtlety the stone seals. It can be said that the world can be seen within square inches, and the subtleties have the universe.
The carefully created collection of twenty-four solar terms seals, together with the stamped prints, and four-season-themed painting and calligraphy works totaling more than forty pieces, are presented by Lipont Gallery and YKLM Auctions to the audience. The exhibition and online auction will start on the day of the lixia solar term on May 5th. Everyone is welcome to make an appointment to visit.
"The theme of the exhibition is Changle Weiyang (长乐未央). It comes from Jin Shi Suo Han Changle Palace Tile (《金石索·汉长乐宫瓦》), which means everlasting happiness. It is exactly what I want to express to everyone through my work. While we are going through the pandemic, various changes are making us unable to release stress and emotions. I hope people can see the beauty in my works and feel a sense of relaxation. Any difficulties will pass in the cycle of time and four seasons." – Jiangang Su 2021
About Chinese Seal Engraving
https://ich.unesco.org/en/RL/art-of-chinese-seal-engraving-00217
【长乐未央】苏健刚国画、书法、篆刻展览
2021年5月5日(立夏)至6月7日
周一至周五早10时至晚5时开放, 节假日休息
艺空联盟拍卖平台 + 温哥华力邦美术馆
加拿大列治文市三号路4211
604-285-9975
继2020年夏季的书画展览之后,艺术家苏健刚经过一年的辛勤耕耘,以二十四节气为全新主题,创作了《二十四节气联印》及相关主题的绘画和书法作品。篆刻作品跟据印石丰富多样的造型,字体也随之变化多彩起来,细朱文的秀逸,满白文的宽薄,在鸟虫篆的精细入微中更有美好寓意融入其中。真可谓方寸之间见天地,细微之处有乾坤。这次与大家见面的有苏健刚精心创作的二十四节气印章,连同印谱、印屏、四季主题的工笔画作品和书法作品共四十余件,由艺空联盟和温哥华力邦美术馆为大家呈现【长乐未央——苏健刚国画、书法、篆刻作品展】和线上拍卖,在5月5日立夏节气那天开始,欢迎大家预约参观。
"这次作品展主题是《长乐未央》,出自《金石索·汉长乐宫瓦》,为快乐长久永续不绝之意。也正是我在作品中想表达给大家的。我们正值疫情时期,各种改变会让人产生压力,情绪无从释放。我希望观众在我的作品中看到美好并放松心情。任何困难在时间和四季的轮迴中都将过去。"
– 苏健刚 2021
中国篆刻艺术被联合国教科文组织列为非物质文化遗产。中国篆刻艺术是中国美术的基石。印章最初被用作权威的签名或标志,后来被所有社会阶层以及亚洲大部分地区使用。中国浙江省西泠印社成立于一个世纪以前,它与大约一百家其他专门机构一起保护和发展篆刻艺术。作者首先将设计草图绘制在纸上,然后用小刀刻在石头上。除了熟练掌握传统书法外,篆刻艺术还需要高度的技巧,因为石材面积很小,每条线的粗细都很重要。篆刻艺术的图案也是艺术家的想象力和文化的结晶。作为书画的工具,印章本身就是一件艺术品。它表达了整个文化关于人类与自然的观念。如今,公章和私人信件中继续使用印章。即使那些了解复杂字符的人越来越少,但专业人员和业余爱好者仍在实践印章雕刻的艺术。
参考:
https://ich.unesco.org/en/RL/art-of-chinese-seal-engraving-00217
Everlasting Happiness with Chinese Painting and Seal Engraving | Interview with Jiangang Su | Part-1
Everlasting Happiness with Chinese Painting and Seal Engraving | Interview with Jiangang Su | Part-2
ASMR | Chinese Seal Engraving, Ink Grinding, Tapping & Rubbing Sounds