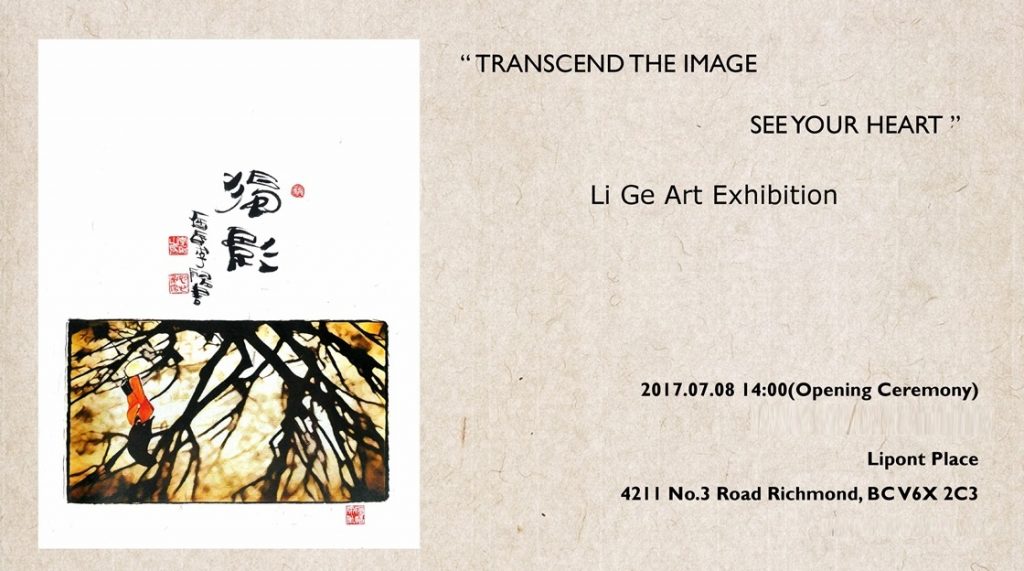 A walk in search of great wisdom, an experience of self-cultivation
A creation of unique characteristics, an exhibition of cultural integration
"Original Heart"—-Transcend the Image, and See Your Heart
Artist: Li Ge
Features of the Work:
Titled "Original Heart", this work is the first to ingeniously integrate multiple art forms including photography, writing, seal cutting, and handmade Xuan paper, thus forming a transboundary art work of a unique style. The author has made every effort to afford every detail of the work an explicit cultural attribute and a collection value.
Exclusive Exposure: In terms of photography, by means of the image expression highly infiltrated with the spirit of Zen, the author exclusively lifts the mysterious veil of in Taiwan and Fo Guang Shan.
Unique Writing: In terms of writing, the author follows his own unique way of writing with the left-hand to present the wise words of Grand Master Hsing Yun.
Original Creation: In terms of material selection, the author chooses the world-class cultural heritage—Xuan Paper purely handmade by the Red Star Factory, a time-honored Xuan Paper factory in Jing County, China, with the ancient paper-making method. Working together with the heir to this Intangible Cultural Heritage, the author further creates proprietary paper that can be applied to both photo printing and calligraphy writing, with which he further creates new-type limited-edition art works.
Sole Work: In terms of work presentation, every paper is authenticated by watermarking. All the photos are printed and manually mounted before the author writes calligraphy with his left hand, stamp with the serial number and sign his name on them. In this way, the singleness of each work will be guaranteed.
Every time LI GE was on the mountain, LI GE seldom rested and spent lots of time walking and feeling. At that time, photography was not a worldly act any more—rather, it became a way of mind-cultivation.
In recent years, li Ge has been invited for several times to shoot photos in Fo Guang Shan in Taiwan, a world-famous Bodhimanda established by Grand Master Hsing Yun. Since its opening in 1966, this mountain has barely allowed any professional photographer for any in-depth photo-shooting, and it is really exceptional for them to allow him to have exclusive, systematic photography.
Photography is like an enlightenment of the wisdom. Through it, LI GE quietly observe the world, sincerely exchange emotions, genuinely feel the gratitude and thoroughly taste the happiness. Perhaps it is just like what Grand Master Hsing Yun once said: In a photograph one should be able to see the heart.
In the travel to Fo Guang Shan, LI GE have tried to express the peace and anxiety of the mind through the authentic image in a simple and unadorned style. According to a veteran artist, techniques matter no more when you have shot enough photos; and when you shoot more, you will find art matters no more either. What matters then? It is "Image that follows the heart". Left-handed calligraphy and seal cutting are other ways for me to seek a peaceful mind. A person with a peaceful heart mostly sticks to his own spiritual pursuits, for faith can warm people and make them strong. Having the ink flow out of the tip of the pen like the smooth flow of my mind, LI GE translate the words of wisdom remarked by Grand Master Hsing Yun into the images that are the best expression of my original heart.
一段寻找智慧的行走 一次修心修性的体验
一种独具特色的创作 一场文化融合的展览
《初心》——跨越影像 照见内心
作者:李舸
作品特点:
这套题为《初心》的作品,首创将摄影、书法、篆刻和手工宣纸等多种艺术形式巧妙融合,形成了独树一格的跨界艺术作品。作者力求在作品组成的每一个环节都要有明确的文化属性和收藏价值。
独家:在摄影创作上,作者长期关注禅修文化,多年深入古刹名寺,与法师同吃住同修行,用极具禅意的影像表达,独家向世人揭开台湾佛光山星云大师及内地诸多寺庙的神秘面纱。
独特:在书法创作上,作者以自成一体、独具特色的左手书法,与每幅摄影作品的意境融合,呈现出星云大师的句句醒世法语。
独创:在材质运用上,作者采用了世界级文化遗产——中国宣城泾县老字号红星牌的纯手工古法宣纸和皮纸。与非遗传承大师一起,独家研制了又能打印摄影作品、又能书写书法作品的专属纸张,独创推出了限量收藏级的新型艺术作品。
独幅:在作品呈现上,每幅作品的纸张有水印认证,打印摄影作品后,经过手工装裱,作者再用左手进行书法创作、最后盖章落款。以此保证每幅作品的独幅性。
作品阐释:
多年来,李舸始终在关注着禅修文化,每次走进各地寺庙,他都用大量时间在游走和感悟。那时于他,摄影不再是世俗的创作行为,而是修心的表达方式。
尤其是近几年,鉴于李舸在禅修摄影方面的成就,他多次受邀前往台湾佛光山进行独家摄影创作。由星云大师一手创建的佛光山,是世界著名的道场。自1966年开山以来,几乎没有专业摄影师获得过深入拍摄的许可,能让李舸独家较为系统地进行摄影记录,实属特例。
摄影是智慧的修行,是静静地观照世界、真挚地交流情感、由衷地懂得感激、深切地体味幸福。正如年轻时也喜爱摄影的星云大师所言,摄影要照见内心。
佛光之行,李舸更坚定了力求以沉色素朴的本真影像,表达心性的静虑。一位前辈曾说,照片拍到一定程度,技术不重要了;又拍到一定程度,艺术也不重要了。那什么最重要?就是"影像从心"。
书法和篆刻是李舸另一种静心的方式。心静的人大多有自己的精神坚守,因为信仰能给人温暖,更能给人定力。李舸以若心性般流淌的墨迹,把星云大师的句句法语,作为初心影像的最佳诠释。
Li Ge, Chairman of China photographers Society; Director of the Photography Department and Senior Journalist, People's Daily.
Judge of various award panels including the Golden Statue Award for China Photography, National Exhibition of Chinese Art Photography, China News Award, China International Press Photo Contest, etc.
Personal experience in multitudes of big events, either exultant or tragic, in China in the past two decades
Winner of multiple awards including Golden Statue Award for China Photography, China News Award, Award of China International Press Photo Contest, Golden Eyes Prize of Chinese News Photographers, China News Photography "Golden Lens Award", Gold Collection Award of Olympic Sports Photography Works
His honorable titles including National May Day Labor Medalist, National Virtuous and Skillful Art Worker, Outstanding Professional and Technical Expert of Chinese Central Government Organs, Top 10 Youth Photojournalist in China, Top 10 Fashion Photographer in China, and Top 10 Outstanding Youth of People's Daily
李舸,中国摄影家协会主席、中国新闻摄影学会副会长、人民日报摄影部主任、高级记者。
任中国摄影金像奖、全国摄影艺术大展、中国新闻奖、国际新闻摄影比赛(华赛)等赛事评委。
亲历了二十年来,中国发生的众多大喜、大悲、大事件。
多次获中国摄影金像奖、中国新闻奖、国际新闻摄影比赛(华赛)奖、中国新闻摄影记者金眼奖、中国新闻摄影金镜头奖、奥运会体育摄影作品金质收藏大奖。
被授予 "全国五一劳动奖章"、"全国德艺双馨文艺工作者"、 "中央国家机关优秀专业技术能手"、 "全国十佳青年摄影记者""全国十大时装摄影师"和人民日报 "十大杰出青年"等称号。
从影二十年来,先后在亚、美、欧、澳、非等大洲的众多国家举办摄影展、拍摄画册。