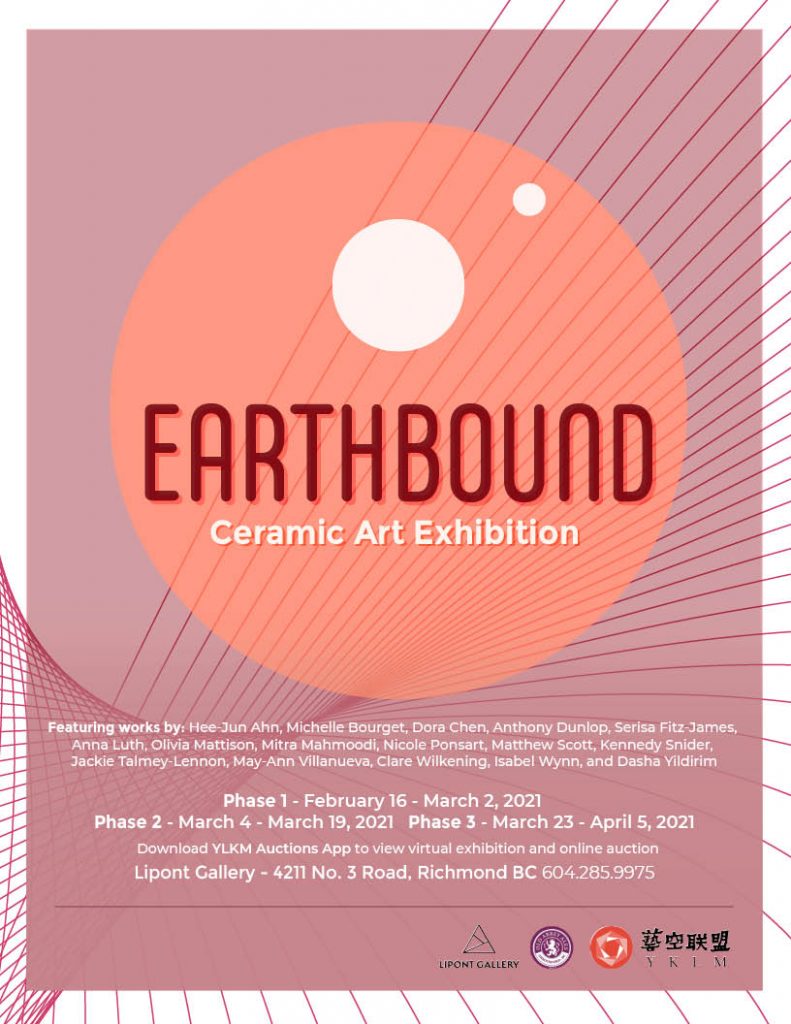 Earthbound Phase One – Exhibition
Earthbound Phase Two- Exhibition
Earthbound Phase Three- Exhibition
EARTHBOUND redefines ceramics beyond mugs and teapots
February 16 – April 5, 2021
16 emerging BC ceramic artists come together in Earthbound at Lipont Gallery to exhibit a new world of ceramic art.
RICHMOND, British Columbia – Lipont Gallery announced today plans to host Earthbound – Ceramic Art Exhibition starting February 16 – April 5 in three phases. Featuring 16 emerging ceramic artists with diverse practices and backgrounds who have studied and trained in the Lower Mainland and greater British Columbia. This exciting community of makers, designers, and artists offer a unique glimpse into the future of ceramics.
Creating work out of materials dug from the ground, these young artists find themselves in relation to the earth through their unique relationships to clay, the landscape, and the land we all share, but their work shows the sky is truly the limit of what is possible in ceramics.
"Today, ceramics is really having a moment. Objects made from clay are so ubiquitous in our day to day lives, it is an incredibly accessible medium. Earthbound is our opportunity to show the dynamic world of ceramics beyond mugs and teapots." said curator Anthony Dunlop. The exhibition includes traditional pottery, functional ceramics and ceramic installations, sculptures, video, and digital ceramics showing the future of the art form being made right here.
Earthbound features works by Hee-Jun Ahn, Michelle Bourget, Dora Chen, Anthony Dunlop, Serisa Fitz-James, Anna Luth, Olivia Mattison, Mitra Mahmoodi, Nicole Ponsart, Matthew Scott, Kennedy Snider, Jackie Talmey-Lennon, May-Ann Villanueva, Clare Wilkening, Isabel Wynn, and Dasha Yildirim.
Curatorial Statement
Anthony Dunlop
The process of creating ceramic work requires a thoughtful engagement of the land and earth, this reciprocal exchange informs each mark made. Clay is an expansive material that forms a community that knows of its material potential. The history of Ceramics is one of functional objects, now as the material has broadened from vessel making, artists and innovators are taking up clay as a companion of new technology. There are inherent material contradictions, fragility and strength offering an abundant and complex visual framework.
Earthbound at Lipont Gallery is an opportunity to connect emerging artists who have found themselves in Vancouver. These artists' diverse approaches, origins, and practices are an example of the future of ceramics, on land that is owned by Coast Salish nations and is under their ancestral guardianship. As we work and rely on the land beneath our feet to provide us with our material, we acknowledge the unceded territories of the Squamish, Tsleil-Waututh, and Musqueam peoples.
Presenting the work of 16 unique artists who are developing their respective aesthetics and finding where their work is situated within the realms of functional dinnerware, sculpture, installation, social practice, digital technology, and performance. The interlacing of these artists demonstrates the ambitious future of ceramic processes.
With the earth as a framework, the very production of ceramics is working against the speed in which we consume in this contemporary moment. These objects halt the production line and necessitate a more localized making, they are objects requiring extended looking. Living in the age of digital communication and dissemination, ceramics are ever-present on digital platforms, each artist engages with digital sharing uniquely. Earthbound, an emerging artists' show is a chance to bring the work of graduates of Emily Carr University of Art + Design closer to communities around the Lower Mainland. When new communities engage with the work, a new perspective on the land we share is formed.
Description of Work
Anthony Dunlop
Earthbound presents the unique work and practices of 16 artists that show the world of possibilities contained in clay. From the precise craft reinterpretations of traditional Chinese tea sets by artist Dora Chen @dorra_chen, to the avant-garde pottery of May-Ann Villanueva @studiofundamentals, the fine slip-cast porcelain dolls by Dasha Yildirim @butterberrydolls, the organic exploration in ceramic sculptures by Kennedy Snider @kennedyceramic, to rhythmic abstract sculptures by Nicole Ponsart @nicoleponsartceramics that challenge the idea of art and the viewer, to Anthony Dunlop's @antlerceramics functional vessels that challenge the laws of gravity, space and time.
The works on view at Lipont Place in Richmond, BC represent diverse origins, approaches and practices that demonstrate the ambitious future of ceramic arts in British Columbia.
From material concepts to firing processes the work of Earthbound artists are connected through clay. Matthew Scott @mattscottceramics is a talented mold-maker, developing unique shapes and forms through slip-cast ceramics. Mitra Mahmoodi @Mitra_mahmoodi_ceramics explores landscape and destruction through exploration and experimentation creating truly unique and beautiful glazes with natural materials. The rich textures and amazing colors of Michelle Bourget's @bourgetmichelle ceramic mixed media sculptures will have you asking if they're from this reality.
For much of human history ceramics has always been both a utilitarian material and an artistic medium. The otherworldly work of Hee-Jun Ahn @ahneejun that blur the line between function and sculpture, narrative illustrated hand built vessels by Olivia Mattison @drunklazyeye, and the object arrangement installations of Anna Luth @anna.luth create a dialogue with clay that expands on what ceramics can be, The incredible, bold pop culture illustrations on traditional vases by Jackie Talmey-Lennon @jackietalmeylennon the giant graffiti'd vessels of Wynnie Tosetti @wynnisabel and the Filipino hot-sauce bottle recreations of Serisa Fitz-James @serisasart show how the art of ceramics is not limited to form or surface.
Earthbound Ceramic Arts Exhibition tells the exciting story of ceramics in British Columbia today, connecting art to the earth.