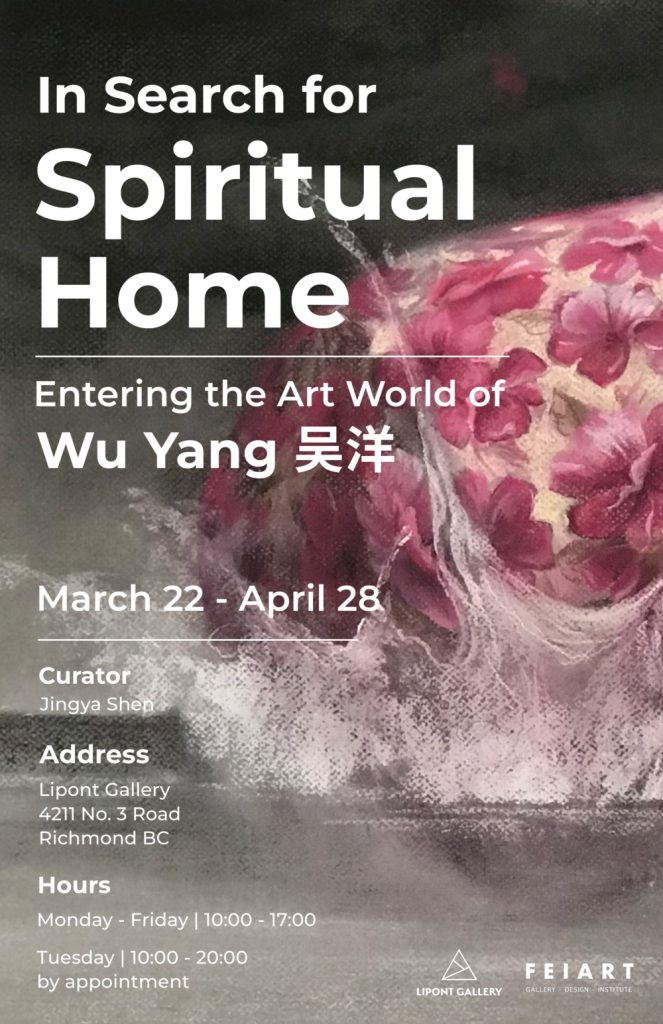 In Search for Spiritual Home
Produced by FEIART
Curator: Jingya Shen
Exhibition: March 22 – April 28, 2023
Mon – Fri 10 – 5, Tue until 8pm (Closed on April 7th Good Friday Holiday)
Since prehistoric times, stone has always been used as an important material for art, while  patterns and motifs carved on stone and pottery have been seen as fundamental art forms in every civilization of mankind.
In ancient Egypt and China, the employment of decorative patterns and symbols in stone carvings and ceramics occupied an even more important place within this time.
Religious and royal symbols and motifs carved in stone were also widely used in art in Europe's medieval period.
During the European Renaissance, stone carvings were widely used in architecture and sculpture. Paintings using stone as the subject matter also appeared during this time.
Wu Yang's creative approach is a continuation and development of this tradition.
In Wu Yang's works, stones are wrapped in floral-patterned cloth, which present a unique visual distinction within its images. This technique reflects the artist's sensitivity and exploration of materials and forms, while also conveying a cultural and symbolic meaning. The floral-patterned textiles can be interpreted as a symbol of softness and compassionate warmth in this expression and forms a strong contrast to the hard cold material wrapped within its nurturing embrace that further conveys tension between strength and tenderness, toughness and sympathy.
Wu Yang's series of works draw from the deep roots of art history and embody a form of modernist art. Through her works, we can appreciate her use of stone as a rustic and unrelenting material. Wu Yang's works form a unique artistic expression through the reinterpretation of traditional art forms and the continuation and development of contemporary women's art. The combination of stone and floral-patterned textiles within her works conveys a special cultural and symbolic meaning, and also shows the creative exploration of materials and forms by female artists.
Please inquire at 1 (604) 285-9975 during business hours or at art@lipont.com
人生中不断更迭的风景
吴洋绘画艺术展
出品:FEIART
策展:Jingya Shen
展览:2023年3月22日至4月28日
週一至週五10:00 – 17:00, 週二至20:00
周末及4月7日Good Friday Holiday休息
石头一直是一个重要的艺术素材,而花纹和纹样一直是人类创造艺术的一种基本形式,早在史前时期,人类就在石头、陶器等材料上刻画图案和符号。
在古代文明中,如埃及和中国,石雕、陶瓷等艺术形式中的纹样和装饰更是占据了重要的地位。在欧洲中世纪时期,宗教和王室的标志和图案也广泛地应用于艺术中。在欧洲文艺复兴时期,石材雕刻在建筑和雕塑中得到广泛应用,同时也出现了以石头为题材的绘画作品。
吴洋的创作手法是对这一传统的延续和发展。
在这次展出的吴洋的作品中,石头被包裹在花布中,花布和石头共同组成了一种独特的视觉形象。这种创作手法体现了艺术家对于材料和形式的敏感和探索,同时也传递了一种文化和象征意义。花布在这种表现手法中可以被理解为一种柔软和温暖的象征,与石头的硬质材质形成了强烈的对比,也传达了一种力量与柔情、坚韧与温暖的张力关系。她还运用了一些象征性的手法来表达自己对于石头的情感,例如运用明暗和对比来表达石头所代表的坚韧和不屈不挠的品质。
吴洋的石头作品在艺术史上有着深厚的渊源,同时也体现了现代主义艺术的一种形式。通过她的作品,我们可以看到石头这种质朴而坚韧的材料所具有的美感和象征意义。吴洋的作品通过对传统艺术形式的重新演绎和对当代女性艺术的延续和发展,形成了一种独特的艺术表达方式。她的作品中石头和花布的组合传递了一种特殊的文化和象征意义,也表现了女性艺术家对于材料和形式的创造性探索。
收藏及售后服务请联系 Lipont Gallery 604-285-9975 art@lipont.com
Wu Yang – Artist Biography
Wu Yang has traversed three successful careers to arrive at her place in front of the canvas conjuring paintings that exude a dreamy surrealism from the softly patterned fabrics that drape around a stone set in remote landscapes. Graduated from the prestigious Central Academy of Arts & Design (CAAD), Wu Yang had studied textile and fashion design in both Beijing and London, UK, before starting out as a textile designer and then quickly excelling to branch out and establish a fashion company with her own fashion brand in 1996. She later returned to CAAD as a faculty member, and served for several years as a visiting professor at the Art Academy in Renmin University before leaving in 2005 to venture into drawing illustrations for publications and children's books until 2018. Her love of patterned fabrics would always stay with her, however, and images of patterned fabrics would show up as the focal point in each of her surreal landscape paintings in luscious pastel or oil mediums when she made the leap to become a full-time artist and launch her first exhibition with other female artists in Vancouver in 2007. In her recent solo exhibition, Icarus Island, the soft splendour of the fabric combined with the stark simplicity of the quartz stones are not contradictory in Wu Yang's work, but rather complementary as the hard surface and the silky softness of the two textures convey a balance of power and beauty that is dreamlike within the quartz and cloth union.
吴洋 – 简介
吴洋是一个内心十分浪漫,具有些神秘主义倾象的女人。自十五岁开始接受正规的艺术教育,就读北京工艺美术学校。19岁毕业后的第一份工作是在北京第二印染厂设计花布,从此与花布结缘,在日后的艺术生涯中,旷日持久的保留着这一份浓浓的"花布情结"。后在中央工艺美术学院(现清华美院)和英国伦敦学习时装、染织设计,并在1996年建立自己的时装品牌公司。
吴洋后来作为教员回到中央工艺美术学院,并担任曾任中国人民大学美术学院客座教授数年。2005年再次辞去教师工作,开始自由创作,完成了一套6册的绘本画册,这套书由中国外文出版社用三种文子出版发行到多个国家。
之后,旅居加拿大。在加拿大期间创作了大量油画作品,并活跃在加拿大艺术家的各种展会上,多次获得加拿大艺术家协会,温哥华艺术家协会艺术创作大奖和优秀奖。