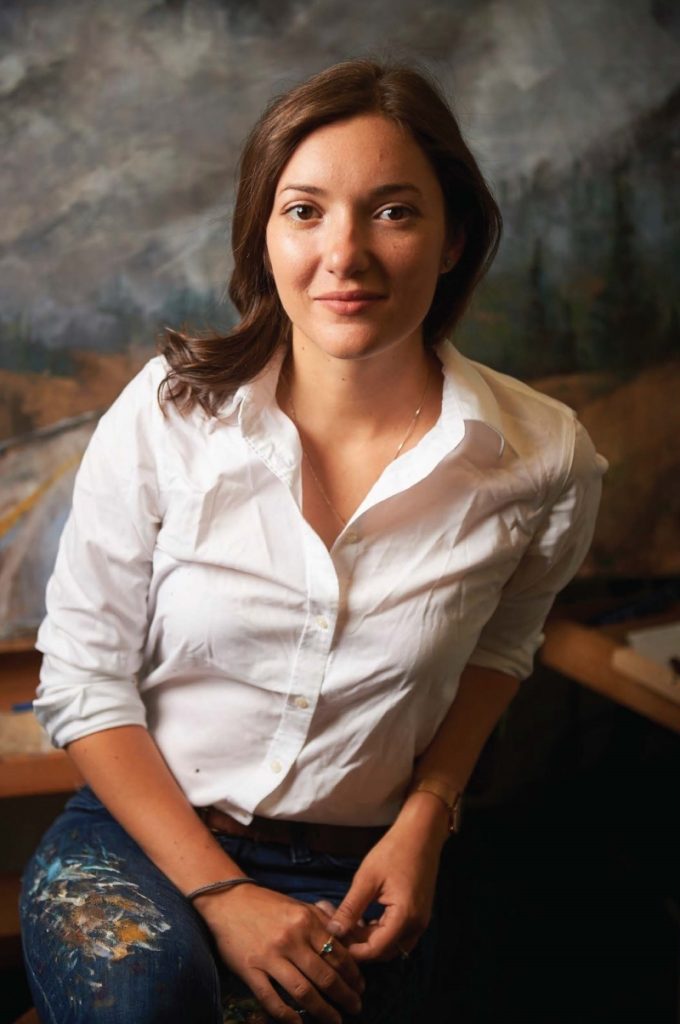 Olga Rybalko – Biography
Olga Rybalko is a representational painter who captures the urban and natural landscape with a unique attention to the magic of each place. She combines her artistic passion with her love of travel to create scenery that captures the mind and the heart.
At the age of thirteen, Olga's family moved to Vancouver from Ukraine. Immigrating to Canada would prove to be one of the most important experiences of her life. "It helped shape my character and my art. Being thrown into such a multicultural country opened so many possibilities for travel and learning. Most of all, it meant that I could make my dream of being an artist a reality." Olga has earned a Bachelor of Arts in Visual Art and Art History at the University of British Columbia.
"My art is all about capturing a place –not the exact look of it, but how it feels to be there. When I paint, I feel like I am there, and that is what I want to translate to the viewer."
Olga lives and works in Vancouver BC.
Olga Rybalko is a landscape artist who combines her passion for art and travelling in order to create works that capture the heart and mind. She remains deeply passionate about painting the outdoors, which she credits to being introduced to the Ukranian countryside at an early age. Her immigration to Canada would prove to be a large turning point in her life, allowing her life-long dream of becoming an artist a reality.
Rybalko's art focuses primarily on urban streetscapes from European cities and the rugged Canadian wilderness; her main concern being to capture the essence of a place, "not the exact look of it, but how it feels to be there." In Glacial Bowl, Rybalko presents an expertly balanced unity of sky, mountain, and land in her depiction of a monumental glacier terminus. The glacier, pinpointed to the Banff area, is covered in a thick layer of snowy white ice at the top, thus giving the impression of disappearing into the dim sky above rendered in small, deft brushstrokes. The stacked pattern of grooves and striations carved into the bedrock dominates the composition in varying earthy tones. Thin bands of ice formation dripping from the peak draw the viewer's eye downwards, to contemplate the glacier dissolving into a thick forest of evergreens. The artist applies thin layers of paint to the work, allowing the  underpainting of reddish-brown to inject more warmth and light into the overall composition.
In recent years, Rybalko has participated in many live painting competitions, such as the Golden Brush Art in 2013. She credits her live art experience for making her a more efficient, confident, and energetic artist. Currently, Olga Rybalko runs The Space Art Gallery alongside partners Bill Higginson and Jolayne Devente in downtown Vancouver, BC.
奥尔加·雷巴尔科
Olga Rybalko 是一位具有代表性的画家,她捕捉城市和自然景观,并特别关注每个地方的魔力。她将自己的艺术热情与对旅行的热爱相结合,创造出俘获心灵的风景。
十三岁时,奥尔加全家从乌克兰搬到温哥华。移民加拿大将证明是她一生中最重要的经历之一。 "它帮助塑造了我的性格和艺术。被扔进这样一个多元文化的国家,为旅行和学习开辟了许多可能性。最重要的是,这意味着我可以实现成为艺术家的梦想。" Olga 在不列颠哥伦比亚大学获得了视觉艺术和艺术史文学学士学位。
"我的艺术就是捕捉一个地方——不是它的确切外观,而是在那里的感觉。当我画画时,我觉得我就在那里,这就是我想传达给观众的。"
Olga 在加拿大卑诗省温哥华生活和工作。