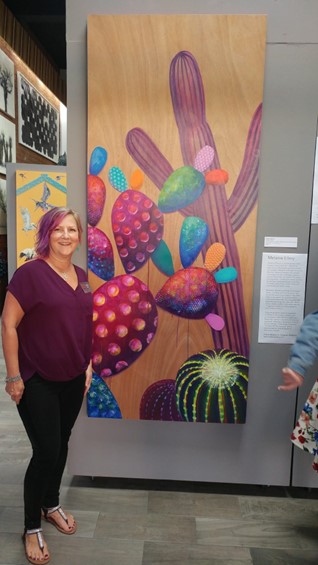 [dt_sc_image_caption type="type3″ image="16529″ title="Cowgirl in the Sand" subtitle="Acrylic on Canvas, 36 x 36 IN, $995.00 CAD"]Artist: Melanie Ellery
Cowgirl in the Sand
acrylic on canvas
36" x 36" x 1.5"
2018
Please inquire.[/dt_sc_image_caption]
[dt_sc_image_caption type="type3″ image="16530″ title="Sound and Colour" subtitle="Acrylic on Canvas, 36 x 36 IN, $995.00 CAD"]
Artist: Melanie Ellery
Sound and Colour
acrylic on canvas
36" x 36" x 1.5"
2018
[/dt_sc_image_caption]
[dt_sc_image_caption type="type3″ image="16531″ title="Speed River" subtitle="Acrylic on Canvas, 36 x 36 IN, $995.00 CAD"]Artist: Melanie Ellery
Speed River
acrylic on canvas
36" x 36" x 1.5"
2018
Please inquire.[/dt_sc_image_caption]
Biography
Melanie Ellery is a painter creating lively and expressive abstract works.
Her background includes a diploma in Illustration, and she has worked as a graphic designer and art director in Toronto, Ontario and Vancouver, BC before she turned her focus to painting.
Melanie can be found creating vibrant contemporary art in her East Vancouver studio. Her work is process-driven, colourful and dynamic; she paints intuitively and spontaneously, expressing life, energy and joy.
A founding and active member of the artist collective 13 feet off the Ground, Melanie has also participated in artist residencies in Graniti, Sicily, New Mexico, USA and San José del Cabo, Mexico.
Artist Statement
I view my work as a journey filled with experimentation, discovery, joy and fulfillment. However, it doesn't come without challenges and it's this that drives me forward. Painting is such a rewarding, sometimes torturous endeavor– and I love the process. My intention is to paint intuitively, let the work go where it may and then know when to step in and control its resolution. My inspiration comes from the contradictions of living in a technology-based society – subjected to constant onslaught of news and media – versus the pursuit of escapism, beauty and solace that only nature (and art) can provide. I aspire to make art that is uplifting and invokes a feeling of joyfulness.
Artist Residency in San José del Cabo, Mexico.
This past February 2019, myself and the members of our Artist Collective, 13 Feet Off The Ground, had the wonderful opportunity to participate in an Artist Residency in San José del Cabo, Mexico.
The group project involved each of us creating our own individual artwork on a door, which would then be exhibited in a show called 'Puertas' at the Pez Gordo Gallery in La Palmilla. It was such a unique, special opportunity to work side by side while we each created art inspired by Mexico.
Continually inspired by the vegetation– the cacti of the area–I titled my piece, "Cactos Dulce" (Sweet Cacti).
"My painting, 'Cactos Dulce" is my loving tribute to the land, vegetation and people of the Baja Pennisula, whose strength and resiliency is only surpassed by their colourful, beautiful culture and spirit."