Long Gao is a Chinese Canadian artist currently based in Vancouver, Canada. He was born in Beijing, raised in British Columbia, and educated in Toronto where he graduated from OCAD University in 2014. Gao has held exhibitions in Toronto, Barcelona, Berlin, and Vancouver. Having lived and worked in multiple places throughout his career, Gao seeks to establish an international presence through his practice.
Instagram: @prosperousg888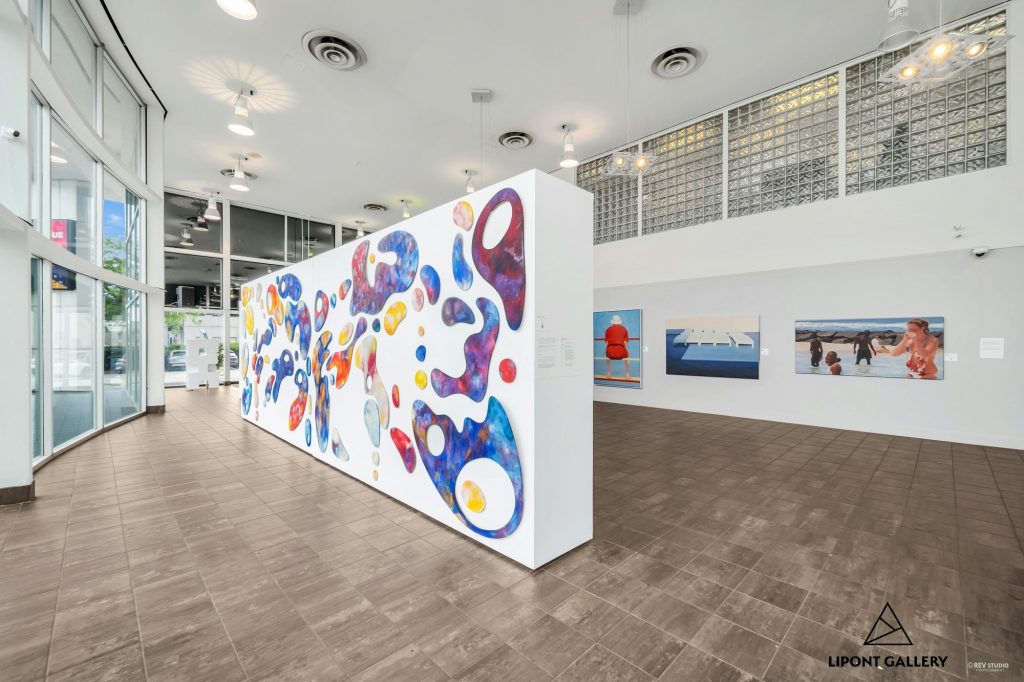 … from a piece of the sky …
10 ft x 20 ft
acrylic on board
2022
CAD$20,000.00
Artist Statement
… from a piece of the sky … is an installation composed of multiple abstract paintings. The pieces were made from a single painting that represents how light changes from day to night. The painting was cut into the many abstract shapes that were stretched over wood board, refined, and rearranged to create the pieces of the installation. In many ways, each painting represents a fragment of a memory, feeling, or moment in time.
The image shown depicts the piece as installed on a 10 x 20 foot wall. The individual paintings are designed to be be arranged, grouped and fragmented as needed to fit multiple site specific spaces.
Sometimes I imagine our souls were made from a piece of the sky that still dreams of floating away.
Exhibition: SUMMER – Paintings by Long Gao
Artist Statement
Many thin washes of metallic hues layer blankets of gestural brushstrokes between masses of golden points. The metallics catch the light and reflect it back towards the viewer, creating different effects depending on the angle and lighting conditions under which the piece is seen. The paintings are meant to be viewed from a variety of different angles, exposing hidden brush strokes and patterns that can only be seen when the light is reflected in a particular way. When observed for longer periods of time, the viewer's eyes begin to adjust to the subtle shades of yellow to reveal variations in movement, colour, and gesture.