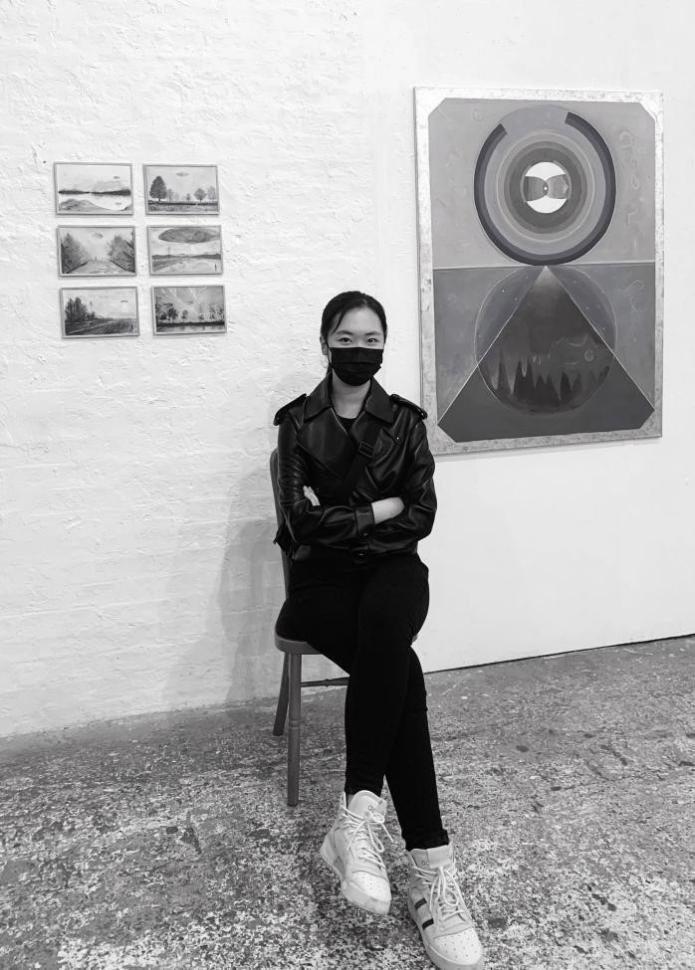 Jia Liu (b.1996) is a Chinese artist who currently lives in Canada. Liu graduated from Central Saint Martins College of Art, University of the Arts London with a Masters degree of Fine Art in 2021, and achieved a bachelor degree of Visual Arts in Emily Carr University of Art. She predominantly works with oil, watercolors and acrylics to explore the concept of the mystery and the unknown. Through her personal obsessions of the spirituality/transcendentalism, Liu combines different elements of eastern & western occultism and metaphysics, mystical symbols, geometry, UFOs, and self-invented fictional languages (pseudo-language) in her paintings, to discuss the subtle relationships between the material and spiritual world, known and unknown, fiction and reality in the contemporary society. She utilizes abstract languages, surrealism and symbolism to express mankind's eternal question of the existence of the physical world: is it as real as it seems to be? How can we prove we are not "brains in vats"? The paradoxical co-existences of body and soul, life and death, virtuality and reality motivate humans to dig into the unknown and truth, and their relationships are what Liu is interested in exploring.
EDUCATION
Master of Arts – Fine Art – Honours Merit
Central Saint Martins College of Art, University of the Arts London
2019-2021
Bachelor of Visual Arts
Emily Carr University of Art & Design
2014-2018
EXHIBITIONS
2023 Their Views: Art By Emerging Women Artists, Lipont Gallery, Richmond, Canada
2022 Art For Real, Boomer Gallery, Tower Bridge, London
2021 Away With Words, Candid Art Centre, London
2021 Prologue, Pearlona Gallery, M50 Art Zone, Shanghai
2020 I Promise You…, Apiary Gallery, London
2019 SALE, performance art project, Tate Modern, London
2018 Grad Show, Emily Carr University of Art and Design, Vancouver, Canada
2016 Annual Student Show, Granville Island, Vancouver, Canada
刘嘉,女,1996 年生。本科毕业于 Emily Carr 艺术学院视觉艺术系,后于伦敦艺术大学中央圣马丁学院取得纯艺术系硕士学位,目前居住在温哥华。作品曾在英国,加拿大,上海等地展览,并被海内外藏家收藏。她的绘画多以油画,丙烯与混合媒介为主,探索神秘与未知。她透过自身对灵性/超验主义的迷恋,结合了东西方玄学和形而上学,将几何、神秘符号、外星飞船、自创虚拟文字融入进绘画语言中, 试图反映有形与无形、未知与已知、古老与现代、世俗世界与精神世界之间矛盾又平衡的关系。后后现代(Post-postmodernism)与后物质主义的大环境下人们对于灵性的渴求来源于与日俱增的孤独感、社会压力以及对未来的不确定性。她运用抽象和符号表达人类对于存在本质和现实世界永恒的质疑:世界是否如所见那般真实?亦或是如梦幻泡影?如何证明我们并非"缸中之脑"?灵与欲,生与死,虚与实的矛盾共存体带动了对真相和未知的探索,而它们之间的关系则是刘嘉的作品所探讨的。
教育经历
2019-2021 艺术硕士荣誉学位
伦敦艺术大学 中央圣马丁学院
2014-2018 视觉艺术学士学位
艾米丽卡尔艺术与设计大学
展览经历
2023 她视角: 新晋女艺术家四人联展, 温哥华力邦美术馆,加拿大
2022 伦敦塔桥,伦敦
2021 艺术中心, 伦敦
2021 序言, Pearlona 画廊, M50创意园, 上海
2020 I Promise You…, Apiary Gallery, 伦敦
2019 Tate Exchange, 公众艺术与装置, 泰特当代艺术馆, 伦敦
2018 毕业展, Emily Carr 艺术与设计大学, 温哥华, 加拿大
2016 年度学生展览, Granville Island, 温哥华,加拿大
Jia Liu, Snakes & Ladders: Revelation (天梯·启示录)

Edition:1/1 (unique) 孤版, ink, acrylic and etching on paper 40 x 35cm 2022
The original cooper plate of this artwork was destroyed.  此版画原铜板已销毁。
Jia Liu, Celestial Ladder (天梯)
Edition:1/1 (unique) 孤版, etching on paper 42.5 x 32.5cm 2017
Celestial Ladder (天梯) combines various elements such as astrology, ancient mythologies, celestial body,  geometry and dream objects. The snake-symbol represents wisdom, temptation, and death/rebirth; ladder represents the spiritual ascension (Jacob's Ladder in Genesis).
In the middle of this work portrays the union of Nuwa and Fuxi (女娲伏羲交尾图), surrounded by astrological symbols. The four ladders in the sky symbolize the connection between the heaven and earth, god and man.
The original cooper plate of this artwork was destroyed.  此版画原铜板已销毁。
Jia Liu, L.C.F
acrylic on wood board, framed, 40 x 40 cm 2022
The title LCF contains occult and biblical meanings, however, just like the fictional language and esoteric symbols in this work, the meaning behind words is coded into the visual representation, of a mystical yet modern grimoire.
Jia Liu, Book of the Unknown (Liber Ignota)
acrylic and watercolor on cotton paper, framed, 19 x 28cm 2021
The latin word "Ignota" means unknown. In this artwork, I created a fictional manuscript-style book page about an unknown myth, with self-invented esoteric languages and occult symbols. While the fictional language is deliberated by the absence of meanings, how will you read something you don't know how to read?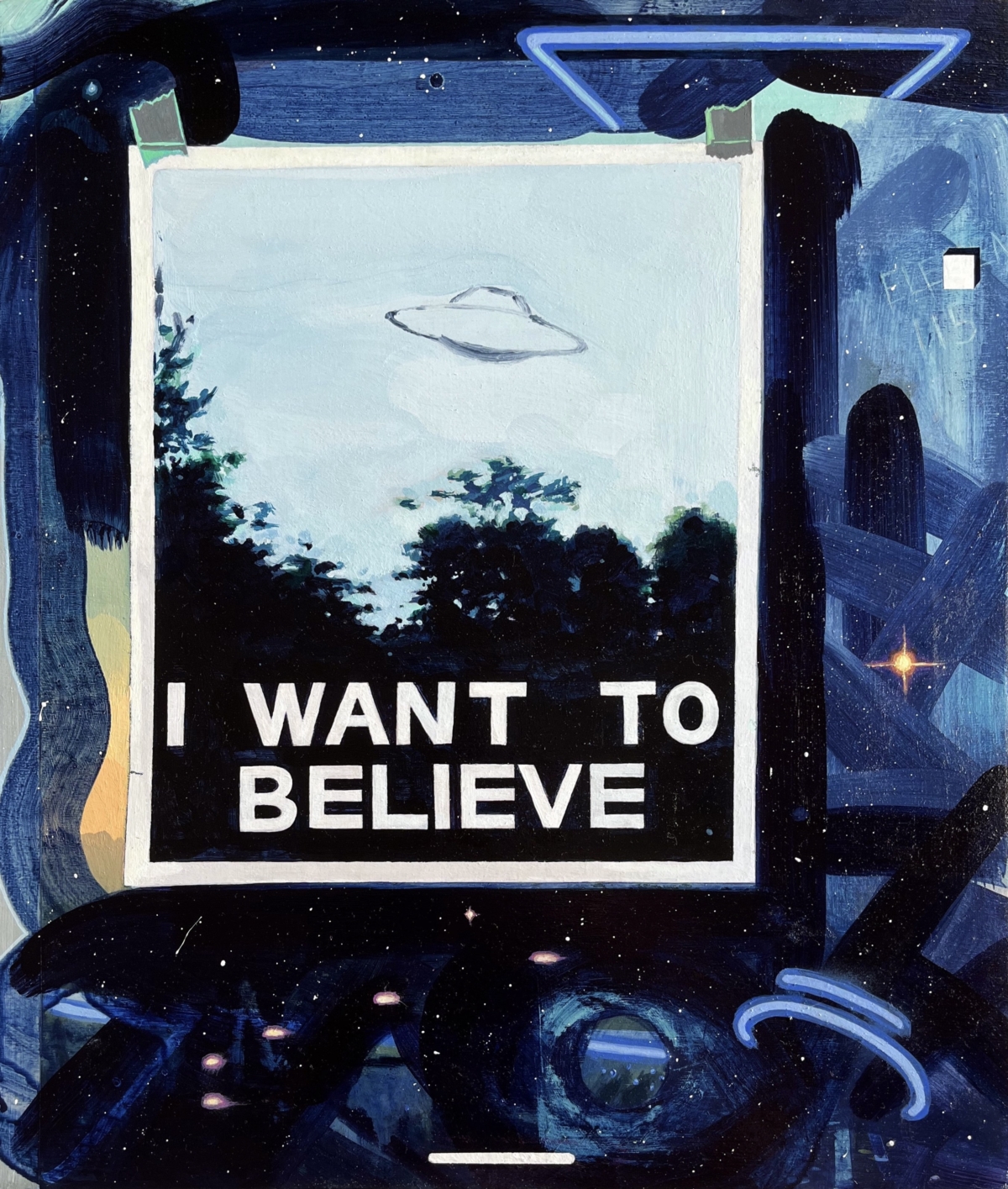 Jia Liu, I WANT TO BELIEVE
acrylic on wood board, 30 x 35cm 2022 (not for sale)
My interest in the extra-terrestrials and UFOs stems from the awe and curiosity of the unknown things in the universe. I believe that we are not alone. The quote "I Want to believe" comes from my favorite TV show "X-Files", a story about mysteries, belief and the pursuit of the truth. Now, the biggest question is not whether UFOs exist, it's when they are(were) in contact with us?
Jia Liu, Encounter: UFO Series
monochrome watercolor on paper, hand framed and mounted on wood boards, 15 x 22cm each 2021
The purpose of exploring alien life is not to solely prove their existence, but also eagerly looking forward to a zero-distance contact with them, even if deep down we are terrified with the fear of the unknown. The contradictory psychology of curiosity and fear indicates mankind's eternal pursuit of truth. I believe that aliens have visited the Earth and will be in the future, and probably they are among us right now. Therefore they are called Visitors, or the travelers of space-time. And one day we will also become visitors.