Fahri Aldin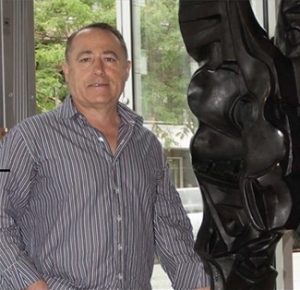 Officially represented by VanGoghver Art Agency, Fahri Aldin is a painting & sculpture artist, architect, graphic and furniture designer. He was born in 1950. In 1981 he received his degree in architecture from the Ion Mincu University of Architecture and Urbanism in Bucharest. From the beginning, all of Aldin's work has shown a clear relation with his double profession as an architect and artist.
After graduating from college, Aldin resided in West Berlin, where he worked for Aldawly Magazine as a graphic designer and art director, and as an art and design consultant for the Egyptian Gallery. From 1983 to 1987, Aldin resumed his studies in architecture and wrote his doctoral thesis focusing on the oriental influences in costume design and architectural details in Eastern Europe. In 1987, he moved to Rome and worked on the restoration and conservation of art, antiques, and frescos, also showing his work in a number of exhibitions there. After living for some time in Italy, he moved to Canada. In 2010, his studio in Thailand was completed, which allowed him to fully excel at his sculpture and furniture making.
Known for his figurative abstract variation, he is often mistaken by clients as the Picasso of his era but in his own style: abstract figurative portraits, surreal still life, depictions of merry scenes, and more. The boldness of one of Aldin's grand format paintings can fill a grand room or a smaller, more personal original work of art. He also has a great selection of original abstract, Surrealism- and Cubism-influenced contemporary paintings. Bright and bold colours, musicians, weddings, fantasy aliens, and other characteristics make a wonderful series of original abstract acrylic paintings on canvas and other materials.
Aldin has always been active as a freelance artist, doing both commissioned works of art as well as his own artworks. His works can be found in numerous private and public collections across Europe, Canada, and the USA. At present, he continues his artistic pursuits in ideas and artworks such as sculptures, calligraphy and painting at his West Vancouver studio and furniture design at his Thailand home and foundry.
Aldin's Sculpture Art
Aldin is also proud to offer his beautiful, limited edition surreal and abstract expressionist bronze sculptures. Typically, each of Aldin's bronze sculptures has only seven copies made before the molds are destroyed. With such limited numbers of his bronze sculptures, these limited edition works of art are certain to be highly collectible.